Acadia Winter Festival: Learn to Needle-felt A Harbor Seal – FULL
February 6, 2022 @ 12:30 pm

-

3:30 pm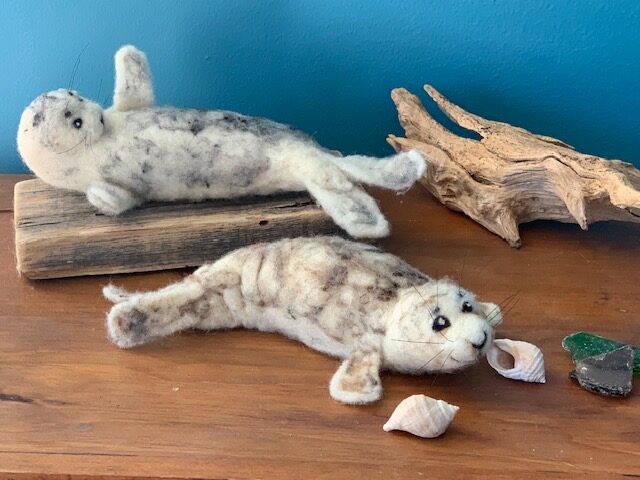 Part of Schoodic Institute's 2022 Acadia Winter Festival
This event has reached capacity.  Please consider some of our other AWF events.
In the dead of winter, Harbor Seals are easily seen from Schoodic Point, basking in the sun on granite ledges at low tide.  Commemorate your observation (real or imagined) by creating a small seal sculpture by means of felted wool fibers.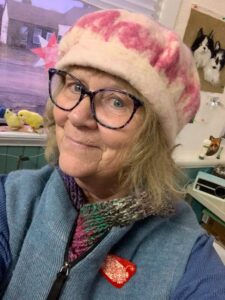 Greetings!  I'm Cathy.  Over the years, I've developed my own method for making felted seals – and I've sold quite a few in this area.  It's fun, and I can show you how.  Since it's a complete project, I've divided the work into chunks.  Every step is easily attainable for even the most inexperienced needle-felter.  The entire class is paced, rather than free-form, which is meant to guarantee that everybody has a finished piece at the end.  In this class we'll prep wool, wrap wool, and learn about needle types and proper use.  We'll learn to do basic 3D work, and we'll do a bit of flat felting.  We'll give our seals individuality by laying colored topcoat over our basic seal shapes.  Then we'll carefully work in a delightful set of facial features and breathe some life into our creatures!  Of course, we can't forget whiskers, and I'll show you how to do that as we near completion.  Finally, we will mount our new seal buddies onto bases made of wood or stone.  Feel free to go natural, whimsical, or otherwise – expression is encouraged!  Expect to go home with an original mounted piece – plus some goodies to play with at home.  The three-hour class is separated into three blocks with a brief rest in between sections.  Bring photos for inspiration, and be ready to start MAKING!  All materials are provided.  Cost is $15.00 per participant.
Cathy Bell lives at the edge of Wonsqueak Harbor with an ancient crone, some honeybees, a few chickens, a three-legged dog, and a goblin.