Healing The Feminine – Women's Retreat
September 5, 2019

-

September 8, 2019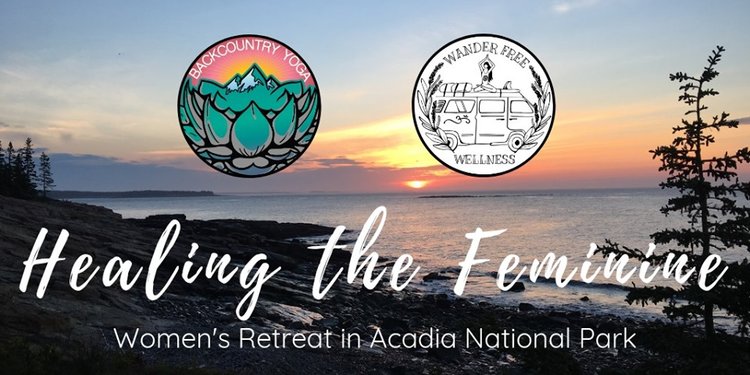 Schoodic Peninsula, Acadia National Park
Join Laura Loewy & Jen Wyatt for an immersive all-inclusive Women's Retreat experience on the quiet Winter Harbor side of Acadia National Park. Come ready to integrate into a deep healing weekend of hiking, biking, mindful movement, sharing circles, journaling prompts, ritual, ceremony, and a deep connection to the earth.
All meals and lodging are included. We will be staying in apartment accommodations at the Schoodic Institute right on the breath taking tip of the Schoodic Peninsula.
HEALING THE FEMININE
We believe the bond between women is one that is sacred, but often plagued with insecurity, mistrust, or competition. We believe in the amazing healing power of women coming together, and hope to create a space to foster deep healing around these female relationships. This retreat will be focused on healing the female bond through movement, nature therapy, storytelling, ritual, journaling, and sacred listening.
NATURE
Part of this experience is being immersed in some of the most pristine nature in the world, where the forest meets the sea. We will spend most of our days outside, either hiking, biking, or kayaking (weather permitting), as well as participating in sacred circles outside wherever possible.
YOGA
While yoga is often thought to be a physical practice of creating shapes with our bodies that stretch our muscles and work with our breath, we want to encourage you to consider the full picture of what yoga truly is.
"Yoga is a discipline to improve or develop one's inherent power in a balanced manner. It offers the means to attain complete self-realization." (The Ministry of AYUSH) In this framework our entire weekend is in fact a practice of yoga. From the moment we meet one another and set intentions, to the the first steps on the summit of a mountain we are practicing yoga. This means, that while we will offer the asana (the physical practice of yoga) throughout the weekend both indoors and outdoors, please remember that everything outdoors is subject to weather and trail conditions. Our yoga class could range from a mat practice on the ground, to a standing practice with our boots on, or a shorter stretch session on the grass. Most of all, every physical yoga session will be all levels so we invite all people to participate.
We appreciate your willingness to leave all expectations at the door and give into the flow of our weekend adventure!
PRICING:
We have sold out of our Blind Faith pricing and are half-filled at this point.
Early bird pricing:
$699
Valid through June 14th (or until all spots are filled.)
Regular pricing:
$775
Valid June 15th until enrollment closes
Click for tickets: https://tri.ps/qp9Et
Email Jen Wyatt or Laura Loewy with questions about this retreat:
jenwyattyoga@gmail.com
laura@backcountryyoga.com
Related Events