Posted in
This year for Citizen Science Month, we are renewing our charge to residents and visitors in the Downeast & Acadia Region to contribute observations of animals and plants to our growing sets of data about the region.
According to Schoodic Institute Bird Ecology Director Seth Benz, our community project to monitor nature observations launched in 2016, as we transitioned from a collection-style "bioblitz" to an iNaturalist platform (photos with crowdsourced identification opportunities). Since then, 7,880 people ("observers" in the table below) have contributed 60,000+ observations of 4,499 species.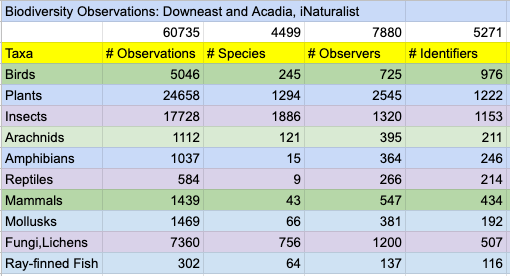 Join us!
We use eBird to track bird sightings, and iNaturalist for everything else, although you can use iNaturalist for birds, too.
This year we are particularly interested in the arrival dates of birds and pollinators (butterflies, moths, bees), as well as flowering dates of trees, shrubs, and plants. We have a lot of historic data on these species from the summer months (more on that soon!), but would like to know more about when migratory animals first appear in the area, and what plants they might be using for habitat.
This focus coincides with the Landscape of Change project, a partnership conceived of and led by Mount Desert Island Historical Society that includes Schoodic Institute, Acadia National Park, College of the Atlantic, MDI Biological Laboratory, and A Climate to Thrive.
The Landscape of Change project will launch at the MDI Biological Laboratory's Science Café on April 19.