About
Protecting Acadia's environmental and cultural heritage in today's rapidly changing world demands high-quality, forward-looking science, greater access to and engagement with science, improved science communication skills, and increased relevance and inclusion.
Building on the success of Second Century Stewardship, Schoodic Institute will support a new generation of talented scientists doing innovative, management-relevant research; telling stories of park science that inform, inspire, and reach new audiences; and engage the public in ways that stimulate learning, curiosity, and concern for Acadia and national parks more broadly.
Supported by strong public-private partnerships, the Acadia Science Fellowship is responsive to park management priorities as research projects are developed.
2024 Request for Proposals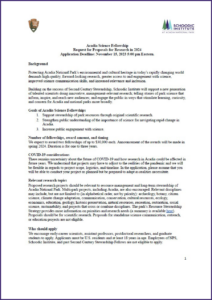 Download a PDF version of the 2024 Request for Proposals or click here to view the RFP as a webpage.
Apply
Proposals will be accepted through the Acadia Science Fellowship apply page. The online application site will be open through November 15, 2023. We anticipate awarding 1-2 fellowships in 2024. Each Fellow will be awarded $30,000.
Attend Our Informational Webinar
:
Join on October 3rd from 2:00 pm to 3:30 pm (EDT) for an informative webinar about the Acadia Science Fellowship application process. Prospective applicants are strongly encouraged to attend; a link to the recording will be available. Please register for the October 3rd webinar here.  
The webinar will provide:
an overview of the Acadia Science Fellowship

the application process

park research priorities

An opportunity to ask questions
Questions?
Please contact asfellow@schoodicinstute.org with questions about the fellowship or application process.
Support
The Acadia Science Fellowship is a partnership between Schoodic Institute and the National Park Service with support from the David Evans Shaw Family Foundation and the Sibley-Saltonstall Family Foundation as well as individual donors. 
Origin
The Acadia Science Fellowship will support its first cohort in 2024. It builds on the success of Second Century Stewardship, which enabled twenty early-career researchers to conduct research in Acadia National Park, helping to guide management actions in the park, and supported science communication and citizen science training across the National Park System and celebrated the stories of science in parks between 2016-2023.
Second Century Stewardship was launched on June 25, 2016, when David Shaw announced a $1 million gift to set in motion a vision of the next century's legacy for America's national parks. It was a collaboration of Schoodic Institute, National Park Service, National Park Foundation, American Association for the Advancement of Science, and the David Evans Shaw Family Foundation. For nearly a decade, the initiative advanced critical science in Acadia and it continues to inspire audiences of all ages by inviting visitors and others to engage with science in parks.
Past Fellows
Meet the twenty fellows and learn about and their research projects that were supported through Second Century Stewardship here