Posted in
story + photos by Seth Benz
Amy Kopec, Schoodic Institute's 2021 Sea Watch technician, arrives at Schoodic Point just as the dawn is breaking. Toting a datasheet, binoculars, spotting scope, and a thermos of hot tea, she sets up a bird counting station at the west end of the parking lot.
Today, like every day, starting at sunrise, she will scan the skies over the nearshore waters, looking out over the water for migrating birds that fly non-stop, in a northeast to southwest direction. It is an exercise in patience and sharp-skilled observation. Before the actual count begins, and at the start of each new hour of observation, Amy records wind speed and direction, water surface conditions, and air temperature.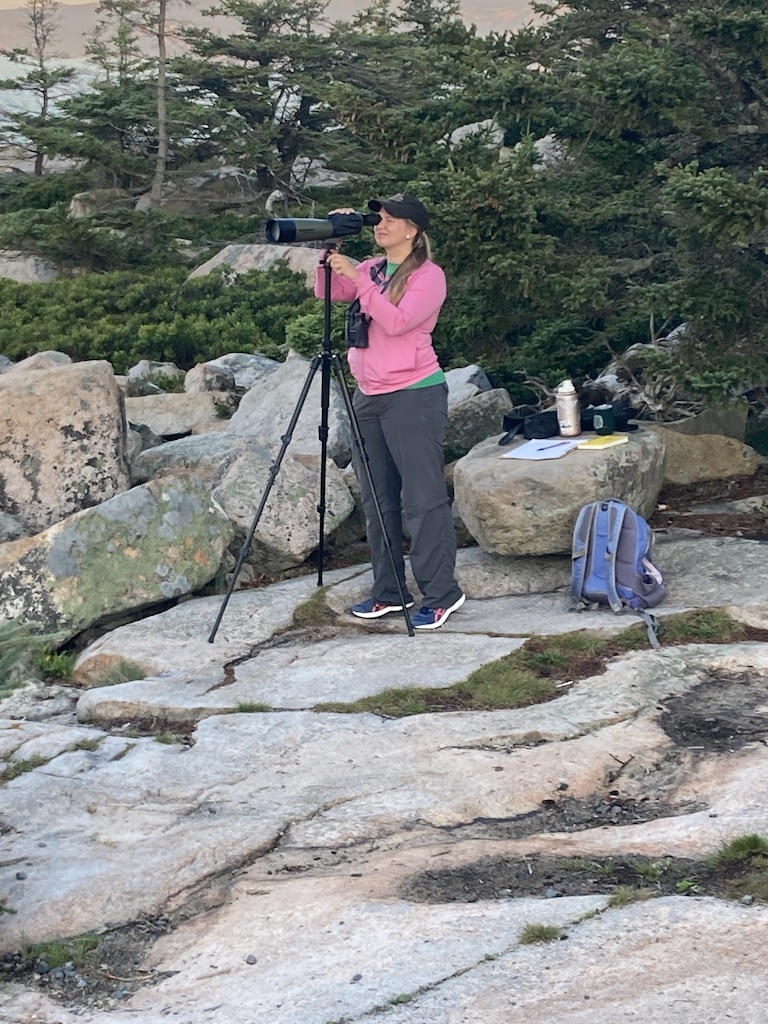 At a glance, she can recognize the silhouettes of a variety of species, and she notes each specific flight style, flock formation, and elevation relative to the ocean surface. She keeps track using a couple of handheld clickers, each to keep a running count of the day's most numerous migrant species.
Since 2014, Sea Watch observers, often volunteers like Amy, have seen an average of 50,000 birds each year, although the 2018 count tallied more than 106,000.  This year, Amy started counting on August 24. Already, the numbers are accumulating:
Double-crested Cormorant (2,752 thus far), single day high 603 (8/29);
Northern Gannet (1,102 total), 221 (8/31);
Common Eider (342), 97 (8/29);
Common Loon (193), 24 (8/27).
Now through mid-November is the best time to witness the seabird migration at Schoodic Point. Visitors are welcome to join Sea Watch daily from 6 a.m. to 9 a.m. We are also offering a seabird migration workshop October 15-17. (Note: Acadia National Park COVID-19 health and safety precautions, including masks and distancing, are in effect).