Posted in
by Catherine Schmitt
Early in the morning on Wednesday, June 9, rain began to fall. It had been hot, and the warm air held a lot of moisture. Inches of rain fell within a few hours.
So much water in so little time had nowhere to go but downstream. On the Schoodic Peninsula, the normally tranquil Birch Harbor stream tore through Route 186, buckling and breaking pavement and pushing corrugated metal culvert pipes out into the harbor. Flooding closed Route 195 and the Schoodic Loop Road (stranding some staff at Schoodic Institute) and the gravel bike paths around the Schoodic Woods campground.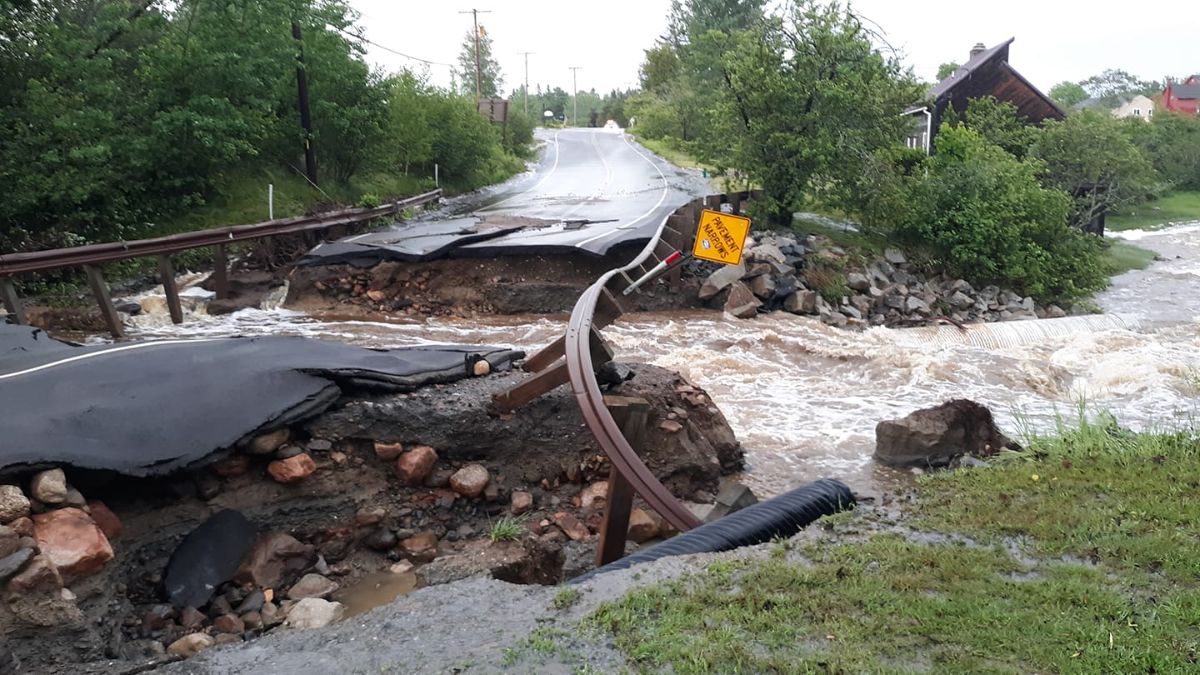 On Mount Desert Island, on the bare granite slopes of Sargent Mountain, the second-tallest summit on the U.S. East Coast, sheets of water washed over historic carriage roads, carrying their gravel surfaces hundreds of feet into the woods. And in the narrow gorge where hikers have ascended the Maple Spring Trail for more than 150 years, the rain became a torrent, ripping through roots, washing away soil, and tumbling boulders.
By the afternoon, the sun was out. Within a few weeks, the Maine Department of Transportation had a new bridge and pavement on Route 186, and the National Park Service had initiated plans to fix the bike paths and carriage roads. But Maple Spring Trail? Or the piles of eroded carriage road gravel in the woods? No one at Acadia National Park was sure what to do.
In some ways, the June storm was a "freak" event. But in more ways, the storm was just the latest manifestation of a rapidly changing climate that is, among other things, warming temperatures and lengthening the summer season, allowing harmful diseases, insects, and plants to proliferate. Rising sea levels and storms are threatening roads and other infrastructure, and washing away Wabanaki cultural sites.
Among the climate changes impacting Acadia, flooding is especially prominent. Annual precipitation has increased by six inches over the last century. There is more rain and less snow, and more frequent intense storms. There is much uncertainty about where and when such storms will occur. The rain on June 9 was patchy: the National Park Service measured 4.7 inches at Cadillac Mountain, but only 2.5 at Jordan Pond. Somesville got 3.8 inches; Southwest Harbor only an inch. The damage was just as patchy.
The devastation along the Maple Spring Trail was enough to break the hearts of the Acadia Trails Crew, the master builders who had rehabilitated the trail just eight years ago.
You can only get your heart broken so many times before you decide it's time to make a change.
After a pandemic summer that saw record numbers of visitors, a warm fall when it seemed the leaves would never change color, and back-to-back Nor'easter storms that flooded some of the same carriage trails that washed out back in June, everyone at Acadia National Park was ready to try a different approach to deciding what to do about the Maple Spring Trail.
In early November, park leaders, rangers, scientists, historians, and the trail crew came together for a workshop to evaluate their options under climate scenarios recently developed by the Park.
"This is the first time we are evaluating a trail as a group," said Gail Gladstone, Cultural Resources Program Manager, who helped organize the workshop. Gladstone is overseeing the listing of Acadia's hiking trail system on the National Register of Historic Places. The National Historic Preservation Act requires federal agencies to consider the impact of management actions on historic properties.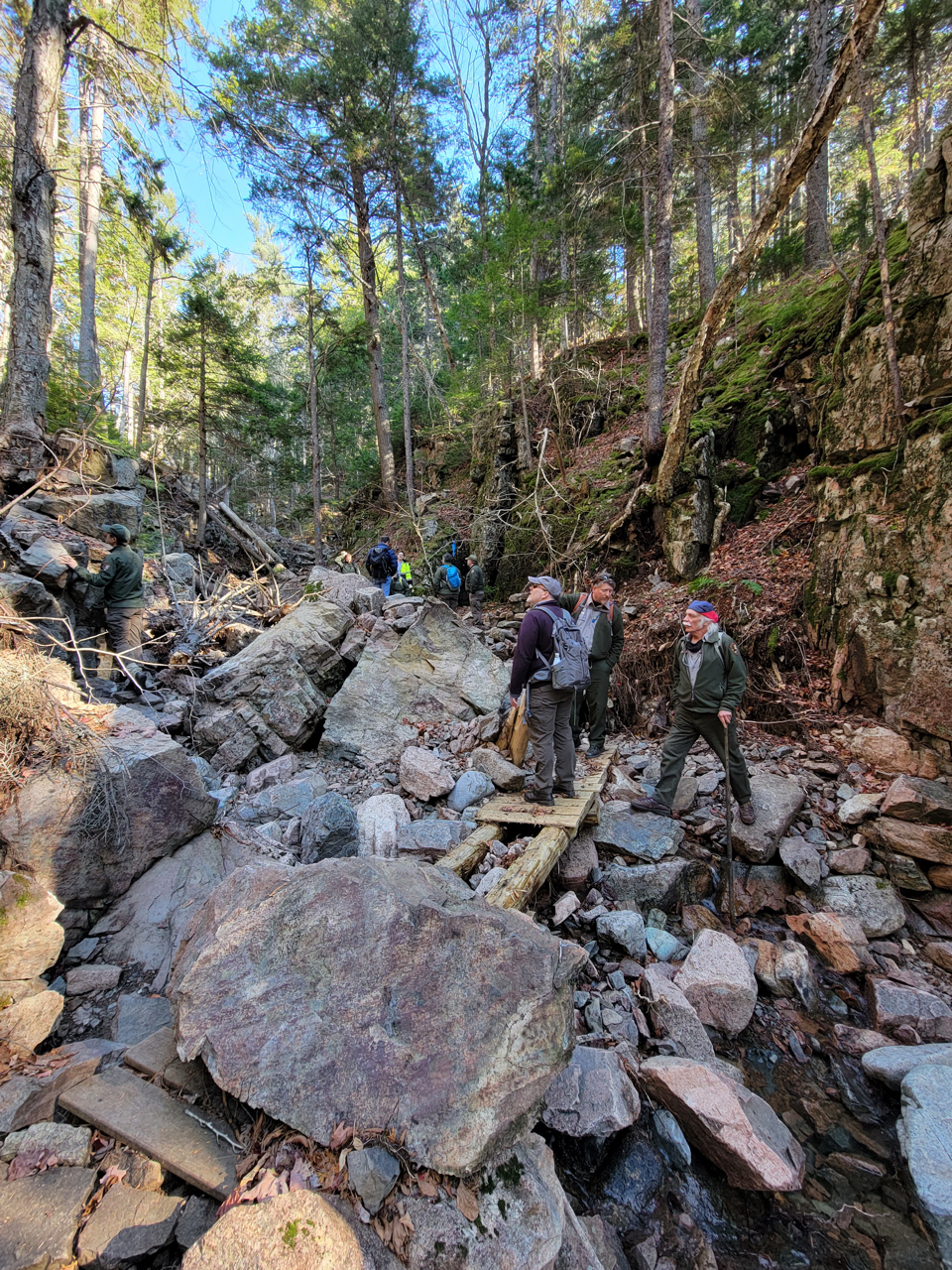 Early vacationers known as rusticators used the "Gorge" of the northern branch of Hadlock Brook to ascend Sargent Mountain. The student naturalists of the Champlain Society used the route frequently. In the 1883 Botany Report of Champlain Society, Edward Rand described the Maple Spring Gorge as one of the few places on the island where large, old trees could still be seen, and his call for protection of the forest eventually helped inspire creation of Acadia National Park.
The Northeast Harbor Village Improvement Society added stepping stones, staircases, and patio stone paving around 1915; these were some of the features restored by the modern trail crew in 2013.
With decades of experience building and rebuilding Acadia's historic hiking paths, the trail crew members could not help but imagine reconstruction. But, having seen the power of the June runoff, no one could be sure that even big blocks of granite wouldn't also wash away during the next deluge. They wanted to hear the perspectives of other park departments.
"We want to know, what does the science tell us?" said Trail Crew Leader Gary Stellpflug.
"Is what we are doing going to last given everything with climate change?" asked Trail Crew Leader Christian Barter.
The uncertainty of Acadia's future climate hung like a cloud over the two days of the workshop.
The June 9 rain was part of a belt of highly localized, fast-moving convective storms estimated to be of the size that only occurs every 250 years or more, according to Charles Hebson of the Maine Department of Transportation, who analyzed the Birch Harbor culvert washout. "There is much uncertainty in assigning probabilities to such extreme events, so this is best understood as a rare extreme rainfall event well outside the limits of standard design," he said.
At its most intense moments, rain fell at a rate of two inches per hour. "This same volume over 24 hours would not have been nearly so damaging," said Hebson.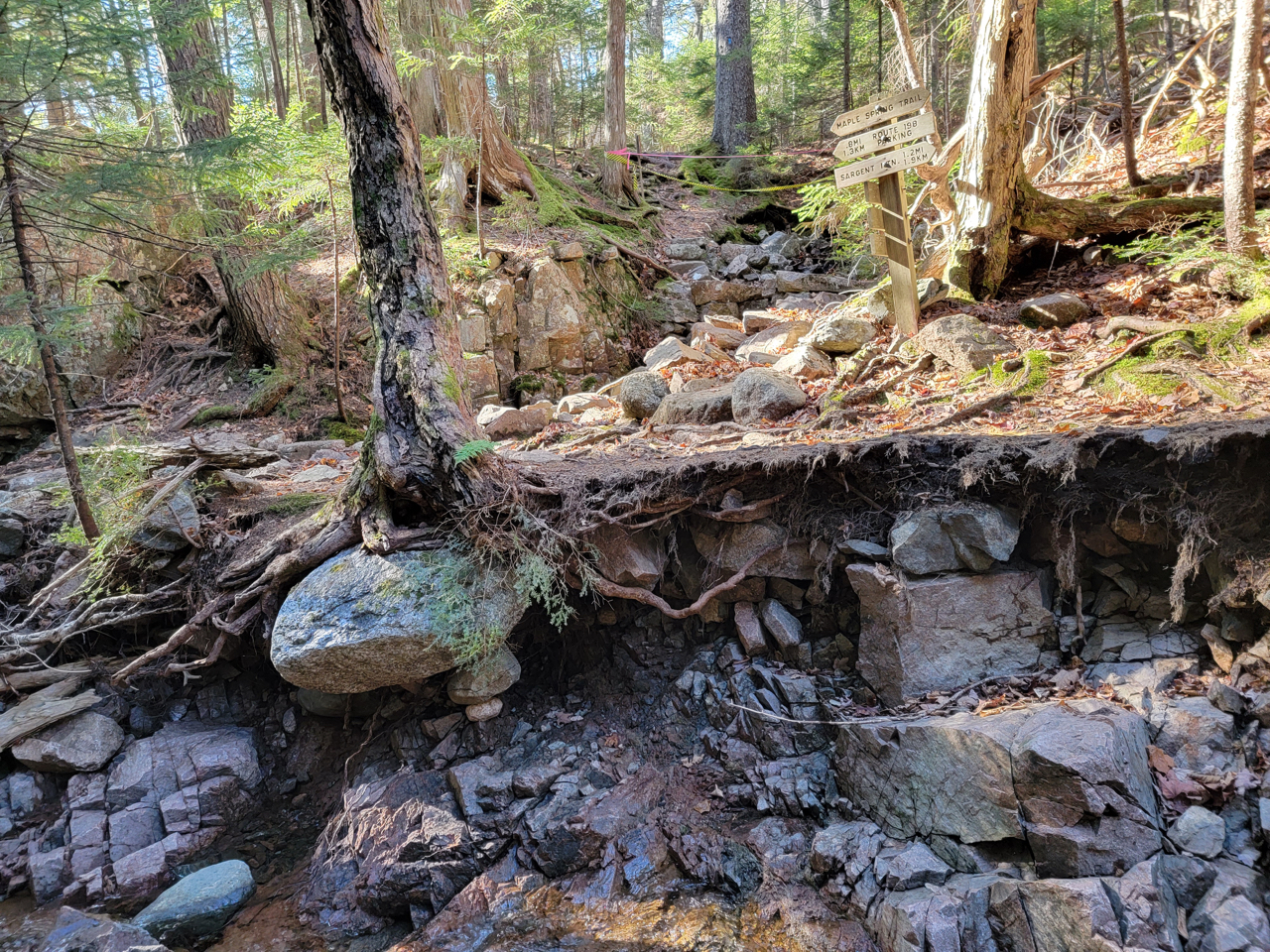 "We have an array of things that happen now that we didn't used to have to deal with," said Brian Henkel, a hydrologist and Wild Acadia coordinator with Friends of Acadia. "I started this job six years ago and it's just been storm after storm after storm." Restoring park trails inspired the creation of Friends of Acadia in 1986.
Twenty-five years later, it is clear that the park's drainage infrastructure was not designed for today's precipitation, prompting changes in park management. When the park rehabilitated the Eagle Lake carriage road this year, they used larger culverts and raised its elevation where it had been repeatedly flooding and washing out. As simple as this seems, the Eagle Lake work goes against the preservation philosophy of the National Park Service that supports repair and restoration, but not much remodeling.
"Our first instinct is to put things back together again, like Humpty Dumpty," said Schoodic Institute President and CEO Nick Fisichelli. "But we need to adapt. We need to change along with the climate." Fisichelli recently co-authored the Resist-Accept-Direct Framework for climate change adaptation that was being applied in the Maple Spring Trail workshop.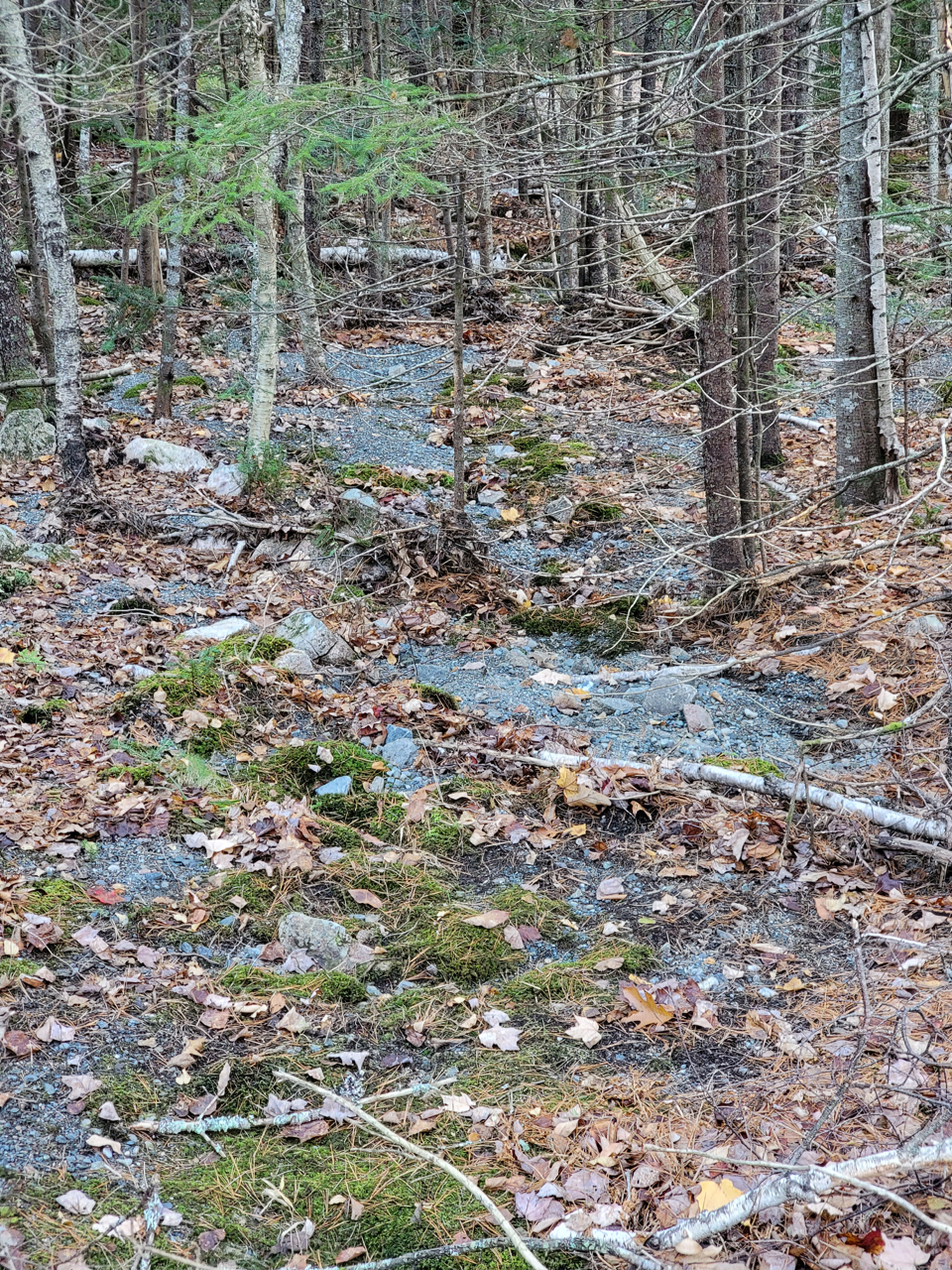 Workshop participants discussed a range of possible management actions:
Do nothing. Remove imminent hazards and reopen as-is.
Primitive Trail. Do some work to construct tread and repair bridges.
Full Rehabilitation. Restore historic features and tread with significant work.
Reroute. Build a new trail outside the stream corridor or make small re-routes to connect to existing trails.
Delete. Close the trail and remove from parks maps and literature.
To re-build the trail as it was would be "resistance" to a wetter future. When people first started using the Maple Spring route, the stream was usually dry during the summer months. Guidebook author Samuel Adams Drake wrote of Mount Desert Island in 1875 that hikers might have to use deer trails "or the dry bed of some mountain torrent" to reach their destination. But the seasonality of flows is no longer reliably predictable.
To close the trail permanently and delete it from the trail system would be "accepting" the likelihood of recurring damage. Many workshop participants had difficulty envisioning this option.
Other options included modifying the trail to accommodate more and bigger rains, or re-routing it along new paths, both a kind of "directing" response to climate change. But these, too, would have impacts on the environment, said biologist Bik Wheeler, who offered the perspective of someone who works with endangered species. "I'm used to letting things go. We need to get comfortable letting go of some things—that's what climate change planning is."
Everyone was cautious, aware that the decision would set a precedent for the future, at least for the near term.
Cost and time are major considerations. Of course the trail crew could fix it, but at what cost? What work on other trails would not get done because all of their efforts would be directed at Maple Spring?
Visitor behavior and perceptions are also factors. If the park does nothing, the trail would continue to erode and potentially be dangerous for visitors who would still use it, said chief ranger Thérèse Picard. "At this point, its very unstable." Picard spent nine years at Zion National Park dealing with flash flooding and related trail closures, both temporary and permanent, and thinks about search-and-rescue operations. "When do we say 'uncle'?"
"Doing nothing isn't a real option," said Acadia National Park Superintendent Kevin Schneider. "All of these choices are actions of some kind – so 'doing nothing' is not possible."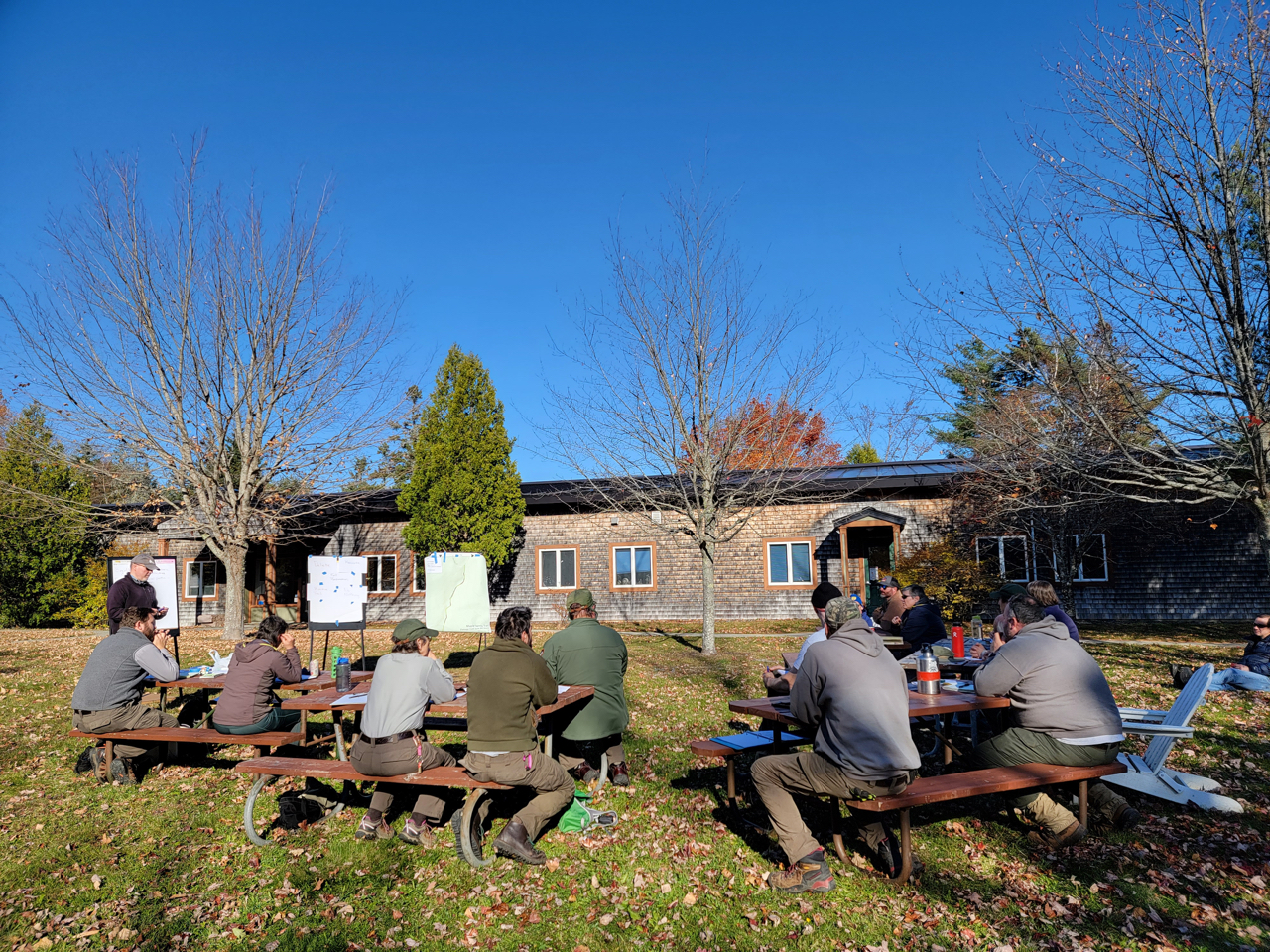 The goal of the workshop wasn't to make the decision, but to gather enough input and information for the trail crew to come up with a plan. They've got time, as everyone agreed they would have to wait to see how the trail weathers the (also unpredictable) rain, frost, snow, ice, and thaw of the upcoming winter and spring.
"We will continue to monitor the situation as the trail crew evaluates the options, including costs," said Acting Deputy Superintendent Keith Johnston. But they also agreed that they will have to make a decision before too long, even if the decision is to take relatively small steps and adapt management of the trail as conditions change.
Environmental Protection Specialist Jason Flynn, who helped organize the workshop with Gladstone and Miller-Rushing, expressed gratitude to the participants. "It shows the value of the trail network, and this process, that everyone spent a day and a half to listen to each other and try to figure this out. These are hard decisions, but we can sit down together and work through them."
Whether or not the decision sets a precedent, there is a new precedent for making decisions about responding to climate change in Acadia National Park, and for that, the Maple Spring Trail will maintain its place in park history.