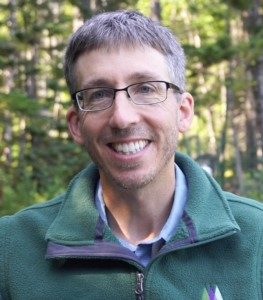 Schoodic Institute at Acadia National Park is pleased to announce the appointment of Dr. Nicholas Fisichelli as Director of Science and Education. In this new role at Schoodic Institute, Fisichelli will provide leadership to the Schoodic Institute Science and Education Team.
"Dr. Nicholas Fisichelli's promotion to Director of Science and Education illustrates Schoodic Institute at Acadia National Park's commitment to pursuing collaborative solutions to critical environmental challenges through discovery and learning," said Schoodic Institute President and CEO Don Kent. "Nick will be the Institute's science and education champion, providing leadership to other staff, and partnering with others to ensure that our boundary-crossing approach produces healthy and prosperous communities."
Nick will continue in his current role as forest ecologist examining natural resource dynamics in a continuously changing world. He focuses on ecosystem dynamics and land management challenges through scientific understanding, education efforts, and stewardship guidance developed concurrently, iteratively, and collaboratively in diverse partnerships. Prior to coming to the Schoodic Institute, he worked for the National Park Service Climate Change Response Program developing and applying management-relevant science, including global change impacts to forests, plant and wildlife species, protected area operations, and visitor experience. He was a Fulbright Fellow in Germany and earned his Ph.D. in forest ecology from the University of Minnesota in 2012. He also previously worked at Shenandoah National Park and Lassen Volcanic National Park.