Posted in
story + photos by Joshua Miner, 2022 Intern from College of William & Mary
To be alone in the woods: sun setting with nothing but the croak of frogs on the cliffside. Solitude simplifies reality. It can mess with your mind, but in the best kind of way. In the way that you first resist, but then come to respect as a crack in your worldview.
I think extended periods of solitude can give you greater appreciation for the people in your life. Being alone in the woods can feel a little lonely, but it is exactly that chance to find peace, being by yourself, being yourself, that makes life back among your friends that much sweeter. This is something a summer spent hiking alone to the sunsets taught me.
Acceptance and confidence in my own decisions was a journey I had to confront and refine this summer as I spent my days documenting science in Acadia and my nights taking photographs.
I found the most joy in what was unexpected: the cliff sides and decommissioned Navy Base I was to call home set the stage for spontaneity. From the very first sunset drive to Schoodic, the trees paraded greens I had never seen, and I could feel the excitement build. The music seemed to have more bass and the road felt that much more aggressive with every turn. I found myself astonished with each mile. I found a room all to myself, the luxury of a fridge, and a group of other early career technicians, fellows, and interns. Although an artist among field ecologists, they made me feel at home and a part of the adventure: including a first night hike out to Schoodic Point, a place where the sea slipped below the granite cliffs and the waves soared above my head. With the sunset passing behind Cadillac Mountain across the water, I was exuberant, energized, and ready to go.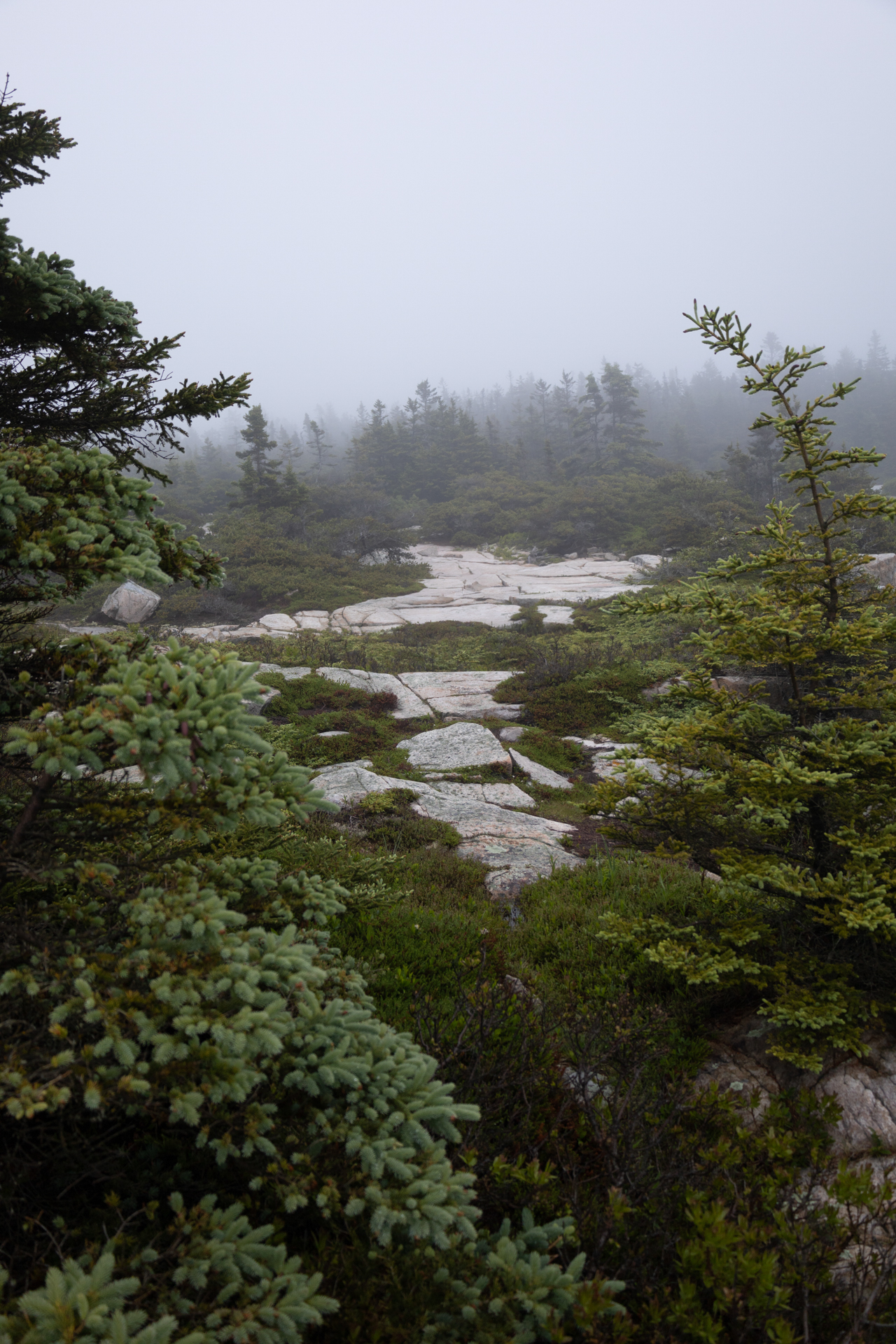 The part I didn't realize was just how important others were going to be in my journey. With each day I felt myself distancing from the ten other people inhabiting our magical island. Each night it felt like I was on a mission, and hanging out wasn't an option. While perhaps useful for short bursts of creativity, I failed to fully realize the depth of this impact on my life long-term. Without people to surround yourself with, life loses some of its spark. To be able to share stories and connect with other people after a long day by myself added so much joy to my daily experience. I realized just how much of my reality and self-image was connected to others. Being in Maine was every bit of magic I had imagined, but it brought to light how susceptible I am to feeling left out. Fragments of insecurity became more apparent in my mind, pushing me to confront feelings of inadequacy I didn't even know I had.
As the next couple weeks progressed and I began to reconnect with others, I realized that I would be okay on my own and that I wanted to be surrounded by loved ones simply because it makes the good moments that much better. Writing this story, I feel I am a different person than I was on that first day, looking down the granite cliffs. These shores have given me the chance to fight the insecurity I never knew I had and refine my own decisiveness: to feel that I know what is true in my heart and act with complete certainty. I now feel completely unafraid to stand up for what I feel is right and find myself less stressed, open to being alone in the woods, and ready to rejoin the world.