Posted in
Schoodic Institute at Acadia National Park is pleased to announce the appointment of Peter Nelson as Forest Ecology Director. Nelson expands the Institute's capacities to understand the causes and consequences of environmental change. Nelson will oversee an assessment of the current health of forests in eastern U.S. parks from Maine to Virginia. In partnership with Inventory and Monitoring Networks of the National Park Service, he will analyze 12 years of data on tree canopy and understory growth and biodiversity from more than 1,400 forest plots established in more than 30 national parks and historic sites. This assessment, expected to be completed in 2021, will inform a conceptual model to guide forest management decisions into the future across eastern parks and beyond.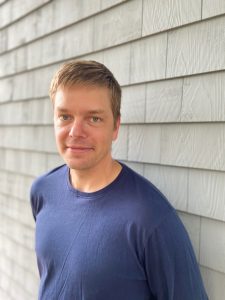 Nelson previously served as associate professor at the University of Maine-Fort Kent, where he expanded a research program focused on new methods for quantifying forest resources using a wide variety of remote sensing approaches and platforms, from drones to fixed-wing aircraft to satellites. He earned a bachelor's degree from the University of Montana in 2004 and a Ph.D. at Oregon State University. Nelson has many years of experience in vegetation monitoring with the U.S. Forest Service and National Park Service, and most recently served as Lichen Air Quality Biomonitoring Coordinator for the U.S. Forest Service, based in both Washington, D.C. and the Penobscot Experimental Forest, where he studied forest health, provided support to the New England region, and conducted public outreach. He has studied forests, largely through the lens of lichens (algal/fungal symbioses) in Katmai, Lake Clark and Denali National Parks in Alaska, Mount St. Helens, and Puyehue National Park in Chile.
Nelson hopes to continue existing regional research partnerships with the National Park Service and conservation organizations with increasing interaction with the University of Maine to expand research at Schoodic Institute. In particular, Nelson brings a remote sensing program to understand forest, vegetation, and intertidal algal community composition and character using cutting edge-sensors and machine learning.
"We are thrilled to have Peter on board at Schoodic! He brings an amazing skill set that combines the abilities of a classical field botanist with those of a remote sensing scientist, applying the newest technologies to understand our changing world," said Nick Fisichelli, Schoodic Institute President and CEO.
Additional forest ecology projects at Schoodic Institute include continuing and expanding vegetation restoration studies on summit areas in Acadia National Park, overseeing tree seedling experiments across local and regional climate gradients, leading trainings for conservation professionals, and working with Schoodic Institute bird ecology, marine ecology, and science education and communication staff on interdisciplinary efforts.
"I am very excited to join Schoodic Institute, and its significant expertise and success with citizen science, where I can focus on applied research and service to Maine and the broader forestry community while staying involved in education," said Nelson.