Posted in
by Seth Benz
Our most recent boat cruise to Petit Manan Island aboard the Tricia Clark, a commercial tour vendor out of Winter Harbor, attracted 21 passengers.  All were treated to exceptionally close-up views of puffins and other bird species presently using the island as well as Bald Eagles, Northern Gannets, and seals along the cruise route.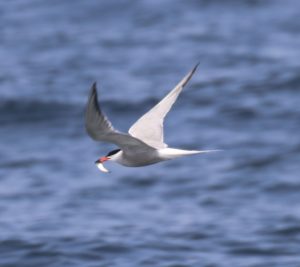 We came away with estimates that Common Tern outnumbered Arctic Tern by a 2 to 1 ratio. We counted at least 40 Atlantic Puffin on the water in close proximity to the boat, and a dozen or so more perched on the rock boulders along the island's southeastern edge.  Adult terns and puffins were seen carrying fish – the best indication that they are feeding young!  Common eiders with recently fledged young, various gull species, Common Murre, Razorbill, and cormorants rounded out our bird sightings.
Schoodic Institute is hosting two more Petit Manan Island puffin cruises which include a lobster dinner, an evening presentation featuring seabird restoration on Maine islands, and a boat cruise (July 30-31 and Aug. 3-4). Join us!
To sign up for one of the last two puffin tours of 2019, call Michelle at 207-288-1356.