Cathy and Jim Gero Acadia Early-Career Fellowship
Launched in 2022, The Cathy and Jim Gero Acadia Early-Career Fellowship is a highly competitive 10-month program for recent college graduates to develop professional skills in conservation fields, engage learners of all ages in science, and advance science to inform park stewardship. The Fellowship is possible through the generous support of Cathy and Jim Gero, the National Park Service, Schoodic Institute, and the National Park Foundation.
Working at the intersection of conservation, scientific research, education, and communication, this cadre of early-career professionals work alongside National Park Service and Schoodic Institute scientists, educators, communicators, and resource managers in Acadia National Park and surrounding areas.
2023 Cathy and Jim Gero Acadia Early-Career Fellows
Brooke Goodman, Science Research Fellow
Zoe Kennedy, Environmental Science Education Fellow
Catherine Devine, Science Communication Fellow
2022 Fellows
Maya Pelletier, Science Research Fellow
Mikayla Gullace, Environmental Science Education Fellow
Olivia Milloway, Science Communication Fellow
Cathy Gero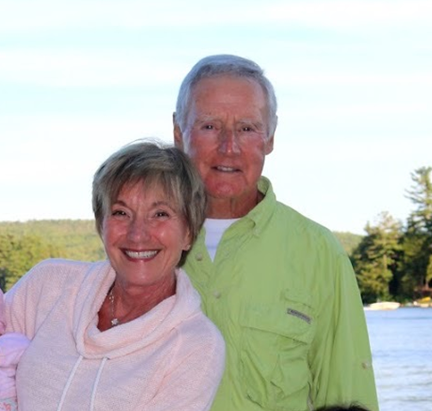 Cathy Gero was a life-long enthusiast of national parks. Cathy and her husband Jim spent many happy summers in Acadia, their favorite national park, traversing Acadia's beautiful hills, admiring native wildlife – birds especially – and exploring the park's unique ecosystems and waterways. Cathy also viewed national parks as a place of learning for young people. With a fondness in her heart for youth, she believed in the power of a hands-on education rooted in STEM principles (Science, Technology, Engineering, Math).
In creating the Cathy and Jim Gero Acadia Early-Career Fellowship, the Geros are establishing a legacy of learning and professional development through the rich diversity of science and science-communication opportunities at the world-class learning laboratory that is Acadia. Cathy's loving spirit will be honored by every bright young mind whose passions and curiosities are ignited through the Cathy and Jim Gero Fellowship.
Jim Gero
James Gero is former Executive Chairman of Orthofix, N.V. (Nasdaq) and has served on the board of Orthofix from 1995 to 2013. He recently retired as the Chairman of the Board of LCI Industries (NYSE), however he will remain a board member, and is a member of the Board of Directors of Intrusion, Inc. (Nasdaq). Previously, he was a director of REI (NYSE), American Medical Electronics (Nasdaq) DF&R (Nasdaq), Spar Aerospace (TSE), and numerous private companies including Thayer Aerospace, DF&R, etc.
During his 52 year business career he was Chairman and CEO of Sierra Technologies a diversified technology driven company, Chairman and CEO of Varo, Inc. (NYSE) a developer and manufacturer of various aerospace and defense products, one of the founders of Clearwire Corporation, and early on was Vice President and General Manager of Allied Corp. (now Honeywell). Presently, he manages his investments in private equity and the public markets.
Educationally, James Gero has a B.S. in Chemistry and Biology from State University of New York, an MBA from the University of New Haven, and a MS in Strategic Planning from Fairleigh Dickinson and a honorary Doctorate of Business degree from the University of New Haven. He has significant experience in general management, board governance, and private investing. He is well disciplined in management, finance, operations and other functions required in operating a business. As a hobby, Jim Gero holds an Airline Transport Pilot certificate and is a certified flight instructor. Jim Gero was married to his wife, Cathy, for 54 years and currently lives in Rockwall, Texas, and Brewer, Maine.

Working together to develop the next generation of conservation leaders