Posted in
story + photos by Olivia Milloway
On a brisk morning in October, a gaggle of middle school students wandered through the trails of Schoodic Institute's campus, iPads in hand. Some squealed in excitement over finding a perfectly round mushroom, while others quietly waited for a red squirrel to come closer so they could snap a photo.
This group of students visiting from Fort O'Brien School in Machiasport, Maine, were participating in the Schoodic Education Adventure (SEA) program, a residential outdoor education program led by the National Park Service in partnership with Schoodic Institute. Teachers, often with the input from students, select educational programs from a list that includes geology walks, forest ecology, and night-time hikes.
These Fort O'Brien students were participating in the photojournalism program, which integrates scientific exploration with artistic expression. The students learned first what photojournalism is–a short, nonfiction story that uses both words and photos–as well as the elements that make up a good photograph. To teach the principles of taking interesting photos, rangers use the acronym FOCUS, which stands for focus, orientation, composition, unusual perspective, and subject.
With the elements of an interesting photograph in mind, the students were split into groups of two and given a half hour or so to search for anything that caught their eye and take a photograph using a provided iPad. Julia Tamlyn, the intern who led the Fort O'Brien students in the photojournalism program, said of the students' creativity, "Week after week, no two pictures are ever the same, and it's special to see what captures students' attention."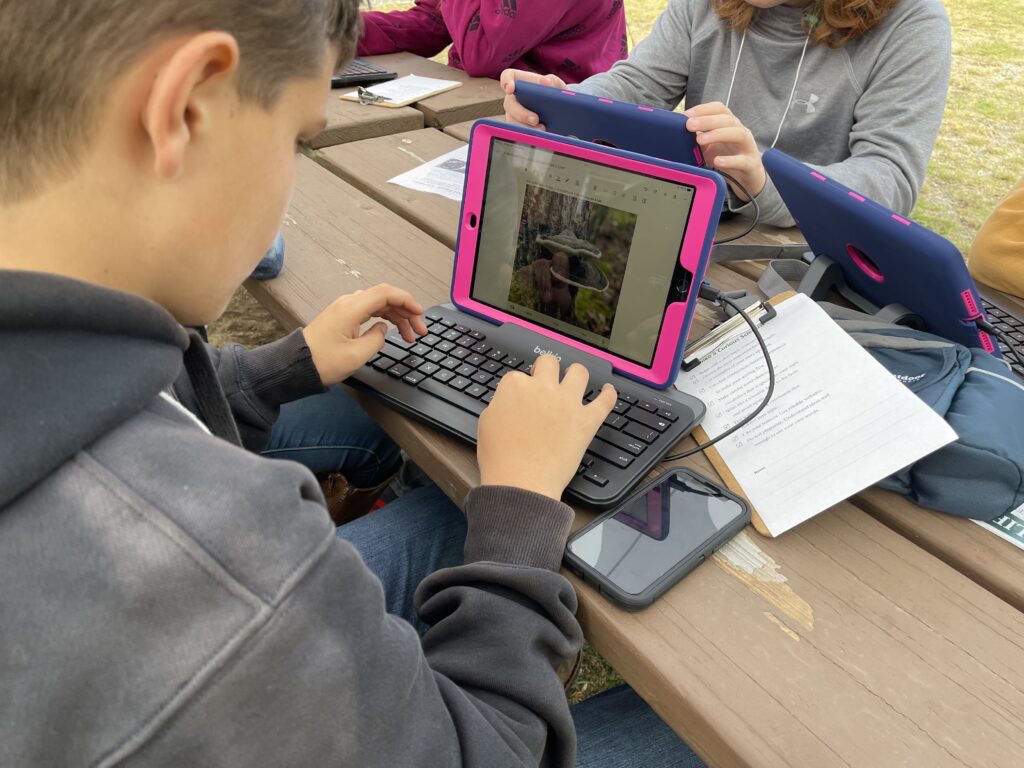 After their field exploration, the students selected which photos they liked the best and fit the FOCUS criteria. Then, they continued to work in pairs to research and write a short paragraph on the subject of their photo. Tamlyn encouraged the students to "stick to the facts" and use reliable sources, but also to let curiosity guide them as they wrote.
At the end of the program, students reflected on what they learned. One student shared that she learned how to use different angles and perspectives to make photos more interesting. Another student mentioned that things he used to overlook, like tree bark, could make an interesting photo. Yet another said he learned that red squirrels were nosy, peeping into the frame of his iPad when he was trying to take photos of other things.
Tamlyn thinks that the interdisciplinary nature of the program is important. "Giving students time to explore the natural environment, express their creativity, and write about their photo feels like a valuable intersection of technology, research, and environmental education."
Alexa Pezzano, the SEA Program Coordinator, agreed. "Photojournalism is special because it works on a totally different skill set than our other programs. I like to have it happen as close to the end of the programming as possible, because they've absorbed a lot and can start making connections."
As students synthesize what they've learned throughout the week, they're also creating stories they can bring back to their homes and schools. "It's a visually compelling deliverable to share with school boards to show what they've come up with through the SEA program," said Pezzano. And, while students only get three short days at SEA, once back at home they can share their travel stories and photos with friends and family just like a "real" photojournalist would.