Posted in
by Megan Moshier
As spring approaches, with a heavy heart, we say farewell to our winter campus hosts, Jay and Cindy Kissell. After volunteering in Spring 2021, Jay and Cindy returned in December to spend their winter in our little corner of the world.  These seasoned national park volunteers have been a tremendous asset to us. Their creativity, vision, and tireless work ethic has helped to bring our operation to a new level. Jay and Cindy have completed numerous projects over the last four months to improve and enhance the guest experience as well as that of future volunteers.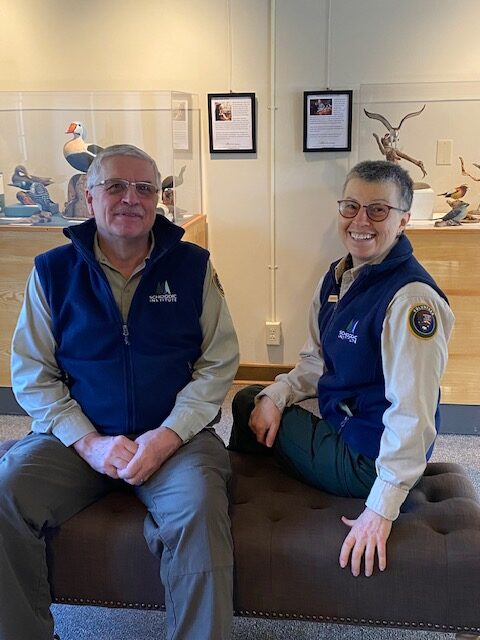 They created a handbook for us to send to arriving volunteers. "Know Before You Go" covers facts and details of the work at Schoodic Institute, Acadia National Park, and the immediate area.  The couple outlined a three-day volunteer orientation, updated the guest compendium in our lodging units, and posted details about the fifty pieces of art on campus created by Acadia National Park Artists in Residence.
In addition to painting, refinishing dining tables, and shoveling snow, they also left us with a fantastic bulletin board featuring the logos of the many groups coming to campus this season.  We couldn't me more pleased with their support and enthusiasm or sadder to see them go.  The Kissells will spend their summer volunteering at Yellowstone National Park.  If you are interested in volunteering in any capacity at Schoodic Institute at Acadia National Park contact Megan Moshier at mmoshier@schoodicinstitute.org or call 207/288-1337.