Posted in
Story + photos by Olivia Milloway
From May through the end of September, Deb Priest searches for caterpillars. Just off a trail on the Schoodic Peninsula, she gently grabbed a tree branch marked with an Acadia National Park research tag. Priest then searched the underside of fifty leaves for caterpillars, being careful not to knock any off. "One thing I learned is to wear a hat, you don't want bugs in your hair," said Priest. "And you have to shut your mouth – I usually put my pencil in my mouth when I look at the underside of leaves. They'll fall right in your mouth and you'll swallow them. I've eaten too many bugs!"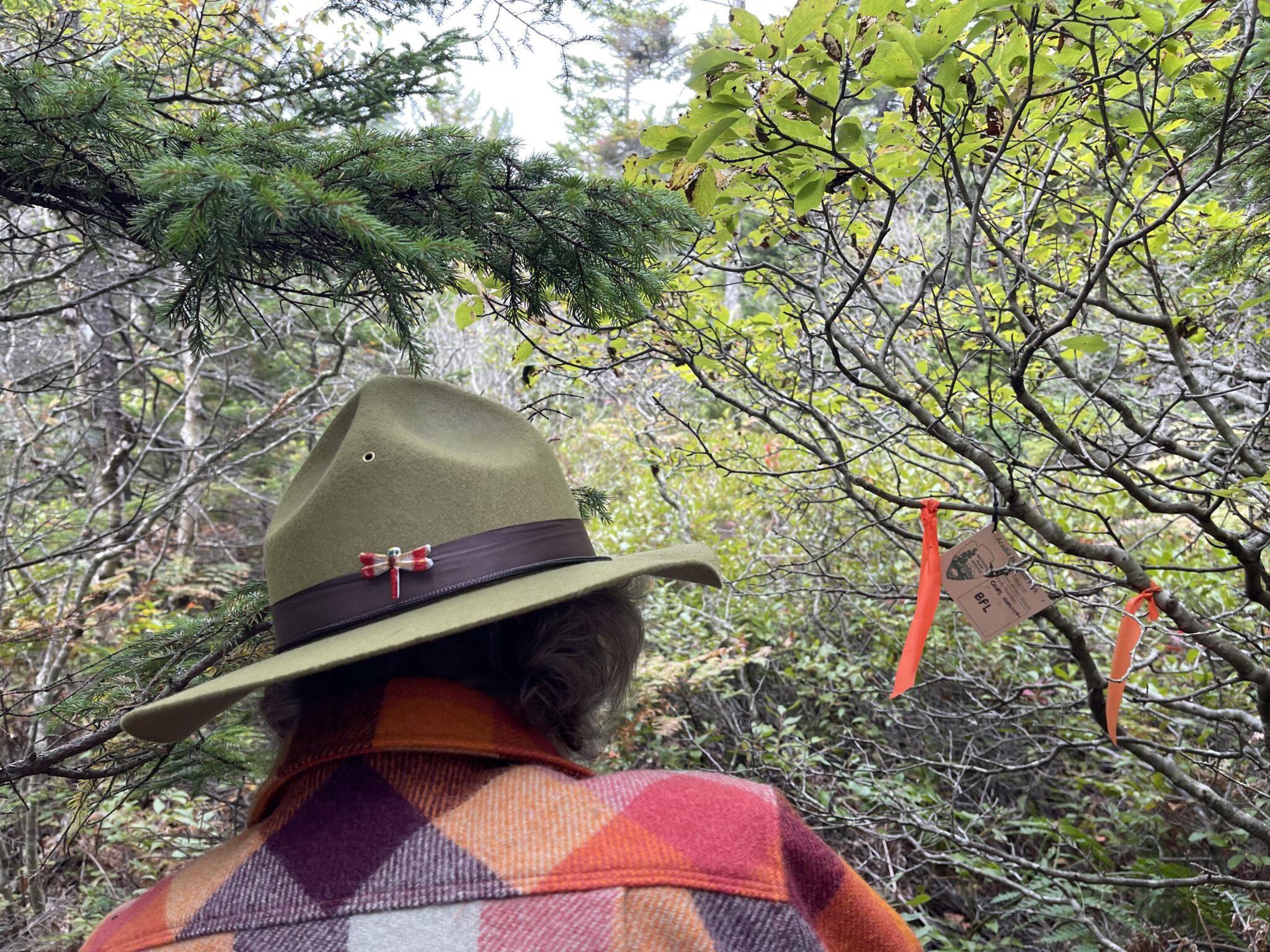 Priest, who grew up searching for wildflowers in the woods of upstate New York, collects data on arthropods of all kinds, a group that includes caterpillars, beetles, and spiders, as a part of the Caterpillars Count! project coordinated by the University of North Carolina. Largely because of her work, Schoodic Point is one of 152 sites across the country that monitors caterpillars and arthropods to understand their phenology, or the biological timing of seasonal events. Arthropods are crucial food for chicks, so the project scientists are looking to see if there's a mismatch in timing between when the caterpillars arrive and bird eggs hatch. 
Like many research projects encompassing so many sites, Caterpillars Count! relies on volunteer citizen scientists to collect data. Citizen science is the participation of non-scientists in the production of knowledge. As a citizen scientist volunteer, Priest follows the project protocols and takes note of each arthropod she sees on each of the marked trees off the Sundew and Alder Trails at Schoodic Point every week. "My numbers seem awfully small–a good day would be eight or nine insects from one whole site," says Priest. "But when you multiply it out to find the 'buggage per acre,' it's surprising to see how much there really is." 
Priest enjoys seeing the changes from week to week. "One tree had this little caterpillar, the next time I came by it was five times bigger, and even bigger the week after that. When I came by last week, the leaf had fallen and the caterpillar had gone to its destiny." She's also noticed differences from year to year, and harbors a strong affection for the creatures she studies. "There have been a lot of lacewings this year. They're beautiful–like fairies–they're pale green and you can see through their wings."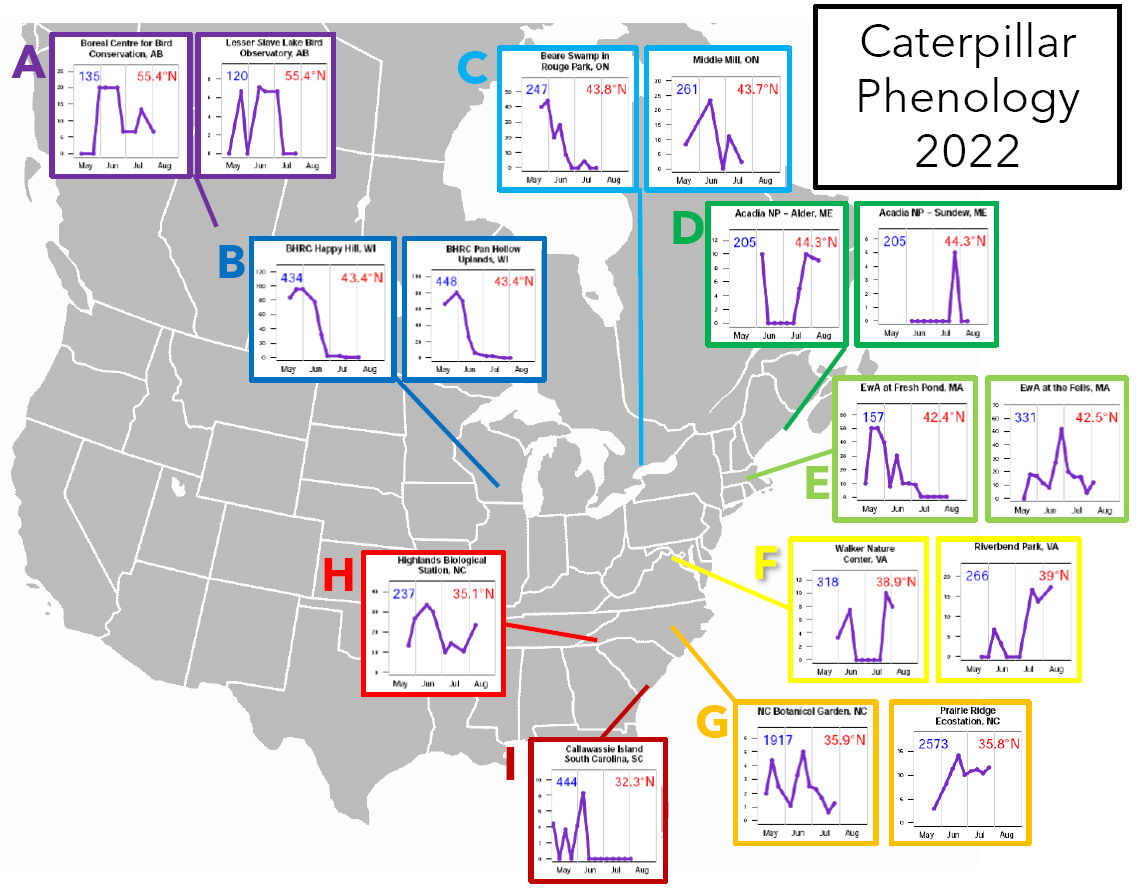 Priest has found participation in Caterpillars Count! to be a rewarding follow-up to her previous volunteer work in Acadia. Splitting their time between upstate New York and Gouldsboro, she and her husband Rob Priest, who is also 75, started volunteering at Acadia in 2009 after they retired from their jobs as librarian (Deb) and neurophysiologist (Rob). The couple spent a few summers kayaking to outlying islands to collect trash. The task eventually became too much for their small sea kayaks, so they helped organize an annual island cleanup effort by boat that continues. 
Eager to stay involved with the park, Priest attended Schoodic Institute's first citizen science training in 2012. Priest was fascinated by the presentations given by Seth Benz, Bird Ecology Director at Schoodic, and Abe Miller-Rushing, Acadia's Science Coordinator. "As a librarian, it's your job to keep learning. I love the continued learning here at the park and the questions I find." After the training, she studied the phenology of alder trees for a project collaborating with the USA National Phenology Network and Nature's Notebook. Then, in 2019, Schoodic Ecology Technician Andrew Zachman helped bring Caterpillars Count!, a project he had worked on as an undergraduate, to the peninsula expanding Schoodic Institute's biodiversity monitoring in Acadia National Park. Zachman trained Priest that summer, and she has been responsible for data collection in the years since.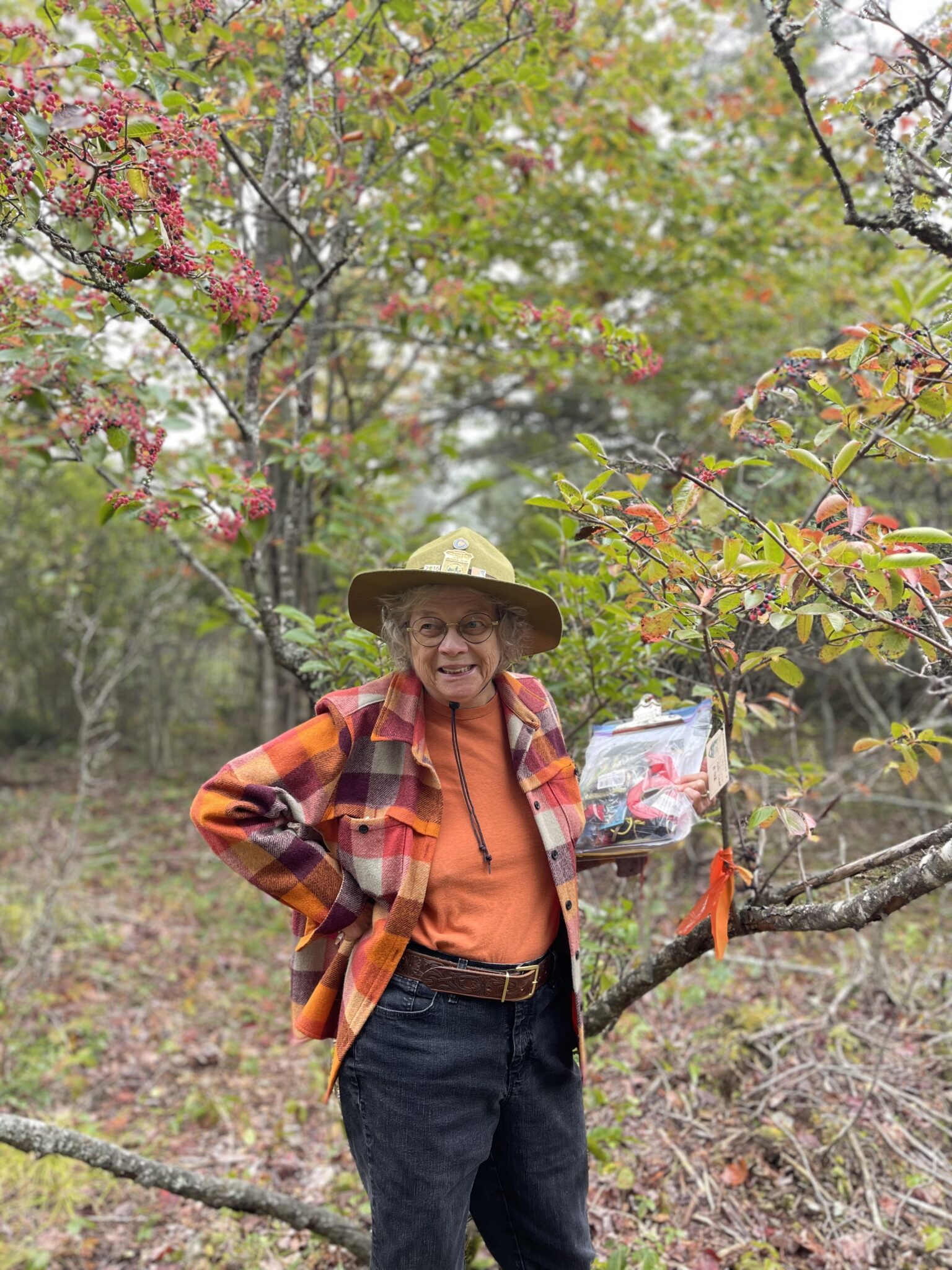 In 2022 Priest started helping with a new effort to document the biodiversity of nearby Forbes Pond Preserve, putting her childhood interest in wildflowers to use. She soon found out that Forbes Pond is the "buggiest hole on the peninsula." Instead of abandoning the effort she decided to run instead of walk the monitoring route. "As I found something, I'd stop, take a photo, and keep running." She also raised 25 monarch caterpillars into butterflies in two gardens on her property in Gouldsboro. 
"She's been devoted and faithful to those programs here at the park," said Benz, who oversees citizen science volunteers. She's even gotten in touch with the lead Caterpillars Count! researcher at UNC so she can ask questions directly. "I think that because of her library background she has a natural inquisitiveness and knows how to seek out resources to help answer her questions. In my view, she's a gem to work with." Beyond her knack for picking up the science, Priest has added her own educational component to her work. 
"Over the time that she's been here, roughly a decade or so, she's taken on the moniker of 'Bug Lady' because when she's out collecting the data she runs into people who are asking her questions about what she's doing. She takes that seriously and gives people an educated answer," says Benz. 
"I usually say, 'I'm checking to see if we have enough bugs in the park' and see how they respond." Priest thinks this opportunity for education is one of the best parts of her job.  She also carries a bag of plastic caterpillars, moths, and butterflies with her datasheets to give to children after teaching them a bit about her project. "She's so enthusiastic about her work that it easily translates to the people who are listening to her," says Benz. 
When Priest went in the field for a final survey for the 2022 season, most of the leaves had been swept off the trees by a recent hurricane. She was still hoping for an insect or two, though, and found several twenty-spotted lady beetles. Regardless of what she finds on her surveys, Priest said, "It's always beautiful, and it always gets you out of yourself, which I think is really important especially as you grow older. I'm always more in touch with what's around me." 
If you're interested in citizen science projects and the volunteers who make them happen, listen to Schoodic Institute's upcoming season of their new podcast, Sea to Trees. This first season will explore citizen science projects happening here in the park and along the coast of Maine. Sea to Trees will be available in early 2023.