Posted in
Early-career scientists in ecology and evolution are eager for their work to address today's complex environmental problems, but they need opportunities to gain the necessary skills to make that happen. A new paper co-authored by Chris Nadeau, Schoodic Institute's Climate Adaptation Scientist, suggests national parks provide those opportunities.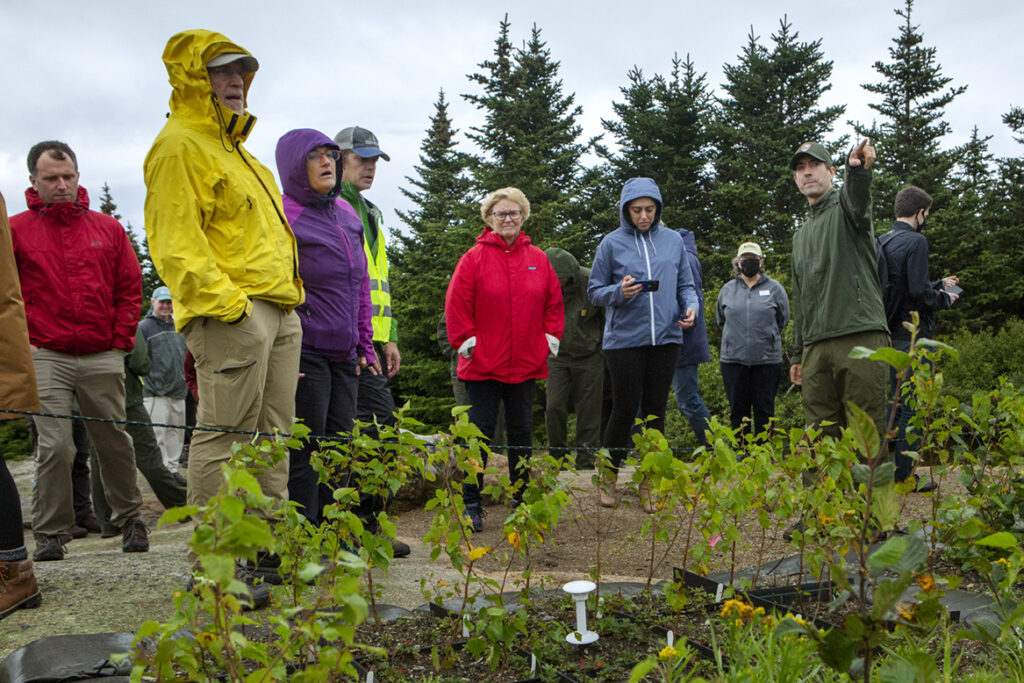 Nadeau began conducting research in Acadia National Park as a Second Century Stewardship Fellow and a David H. Smith Conservation Research Fellow between 2017 and 2022. He recently helped lead a climate-impact tour in Acadia National Park that included four members of U.S. Congress: Shellie Pingree (ME), Ann McLane Kuster (NH), Mike Quigley (IL), and Nanette Barragán (CA). The Sustainable Summits Project, an experiment Nadeau leads to test a commonly proposed climate change adaptation strategy on Cadillac Mountain, was one of the stops on the tour.
"I realized the enormous communication opportunities that national parks offer when I was able to discuss the pressing need for climate change adaptation with members of Congress," said Nadeau. "I was blown away when I saw video tweets from members of Congress explaining the Sustainable Summits Project to their constituents. I had never dreamed that my work would garner such interest."
In the paper, published in the Bulletin of the Ecological Society of America, Nadeau and co-authors Jenelle Booker of the College of Wooster, Sana Saiyed of University of Notre Dame, and Tim Watkins of the National Park Service wrote that this type of interest is one of the many benefits for early-career scientists working in national parks.
Effective science communication takes practice in real-world situations, yet opportunities for meaningful practice are rare for most early-career scientists. National parks provide many opportunities to get involved in impactful research, ranging from Scientists in Parks internships for undergraduates to Second Century Stewardship Fellowships that support research for graduate students, postdocs, and early-career faculty. Once scientists begin working in a park, the opportunities for science communication come naturally.
Curious visitors regularly ask scientists they encounter in parks questions about their work, which provides the opportunity to showcase science in action. Such interactions are less common in other research settings. Parks and their partners, such as Schoodic Institute, also have many professional science communicators and educators on staff that can help early-career scientists hone their communication skills. Parks also have relationships with many different audiences, including Tribal Nations, local communities, journalists, and political leaders. Building these relationships takes years, and few early-career scientists have had time to build such relationships on their own. For all these reasons, parks provide a unique experience for early-career scientists to ensure their science stories make an impact, which bolsters their career. Indeed, science communication is a significant component of many scientific careers today.
Three early-career scientists who have worked in national parks share their experiences in the article. Sana Saiyed, a Ph.D candidate in Anthropology, described her journey cultivating scientific experiences as a Scientist in Parks Fellow at Hawaiʻi Volcanoes National Park. Nadeau shared lessons learned working in Acadia National Park. Jenelle Booker, a recent graduate from the Department of Chemistry, provided perspective on engaging park science online as a Mosaics in Science Intern for the National Park Service Inventory and Monitoring Program.
According to the authors, working in National Parks was and is "a fun and meaningful part of our identities as scientists." They encourage more early-career scientists to make national parks part of their scientific careers.