Posted in
Recently, curious and concerned birdwatchers are asking where are the warblers?
Often lamenting, "we're just not seeing any".  Could it be that the prevailing impatience with the wait for unmasking because of Covid has stimulated other internal impatient buttons? And, or, is it our long awaited "desire to see something" not that moving about more freely is on everyone's agenda?
Here is a comparison of warbler arrival dates by week for Acadia National Park's two districts (MDI and Schoodic) which are separated by Frenchman Bay (a 4 mile stretch of water).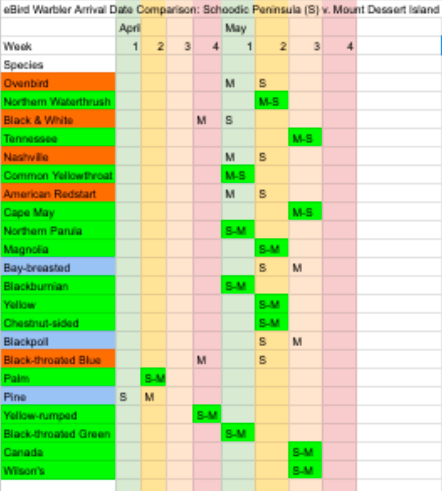 Green indicates the species that arrive the very same week.
Brown indicates the species first seen on MDI.
Blue indicates the species seen earliest on Schoodic Peninsula.
The numbers indicate which week of the month arrival most often occurs.
Today May 8 is designated as the Global Big Day. It would be a good day for you to go afield and see if the warblers comply with your expectations.
By Seth Benz, Schoodic Institute Bird Ecology at Acadia National Park, Maine.