Posted in
Thank you to everyone who contributed to this effort, helping to add 96 sea star observations to iNaturalist! Both Asterias species are Priority 2 Species of Greatest Conservation Need (SGCN) in the State of Maine.
#WeSeaStars  – do you?
If you are out along the coast of Maine from now until Wednesday, September 23, the Shaw Institute and Schoodic Institute are asking for your help collecting pictures of sea stars. This year, in some of our research locations (near Blue Hill and Winter Harbor), we are finding an unusually large number of sea stars, and we want to find out, how widespread is this phenomenon?
We're asking for your help in learning—where are the sea stars?
What you need to do:
Head out to the intertidal zone near you, anywhere between Schoodic Point and Stonington, and take pictures of sea stars you find, in tide pools or on seaweed-covered rocks or beaches.
Upload the pictures to iNaturalist, a smartphone app for collecting and sharing nature observations, if you have an account;
OR post pictures to social media with the tag #WeSeaStars
OR send your pictures, including location and time when photographed, to hwebber@schoodicinstitute.org
Some rules:
Safety first! Know the tides (check the tide chart). Always be safe when near or in the ocean, wear sturdy shoes, don't turn your back to the ocean, and watch out for sharp barnacles and slippery seaweed. Take a buddy, or if you're headed out by yourself let someone know where you're going.
Get permission! If you're adventuring across private land to access the intertidal zone, make sure you have landowner permiss ion.
Hands in, not in hand! We're asking everyone to send us pictures of sea stars, we're also interested in the approximate size of the sea star and what the sea star is on (seaweed, rocks, etc.). If you put your hand in the picture then we can better estimate the star's size. If you put the star in your hand, we won't be able to see what the star is living on—so, put your hand in the picture, but don't put the sea star in your hand.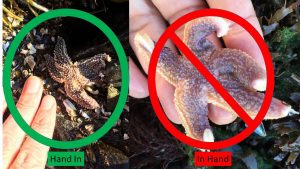 Some background:
What are sea stars and why are we interested in them? Sea stars are ocean animals with spiny skin that live throughout the world. We have two common species in the Gulf of Maine—the Forbes sea star (Asterias forbesi) and the northern sea star (Asterias rubens); they are difficult to tell apart, and both are also called the common sea star! The Northern has prominent lines of spines along its arms (sometimes) and a pale yellow spot (called a madreporite, a structure that helps the star take in water and move). Forbes sea star tends to have a darker, orange spot. Both eat mussels and oysters. As predators, they can tell us a lot about the health of the the intertidal and beyond.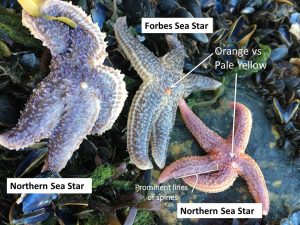 Sea stars in other parts of the U.S. have suffered from sea star wasting disease, and scientists have linked sea star declines with warming waters caused by climate change. There have been very small localized outbreaks in Maine, but we do not know what causes the disease in Maine sea stars. Once we know where sea stars are we can plan future monitoring of sea star populations for wasting disease and other clues about ocean health.
Sea star numbers go up (boom) and down (bust) from year to year, and we don't really know why this happens. Prior to this year, sea stars seemed to be harder and harder to find.
Are we experiencing a sea star boom? Are large clusters of sea stars common this year? Are sea stars found more or less everywhere along the coast between Stonington and Schoodic? These are questions we're hoping you can help us with. We can't visit the whole coast, and need help.
How will we report what we find? Shaw and Schoodic will both produce summaries of the Schoodic to Stonington sea star search later this year!
— Heather Richard, Shaw Institute & Hannah Webber, Schoodic Institute