Posted in
Schoodic Institute at Acadia National Park has elected Vicki Goldsten of Winter Harbor, Maine and Key Largo, Florida, and Ivan Fernandez of Milford, Maine, to the Board of Directors.
"We are so fortunate to have a great Board of Directors advancing our mission of inspiring science, learning, and community for a changing world," said Schoodic Institute President and CEO Nicholas Fisichelli. "Vicki Goldstein has been a longtime member of our community and brings a great depth of experience working with several nonprofit organizations. Ivan Fernandez is a leading scientist at the forefront of climate change response in Maine."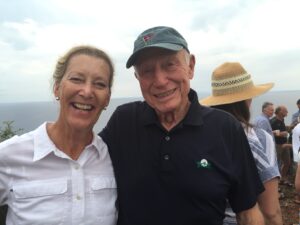 Vicki Goldstein grew up in Akron, Ohio. After an early career as a stockbroker for Merrill Lynch, she sailed around the world and began publishing stories and photographs in Sail magazine, The New York Times and the Roto section of Knight Ridder Newspapers. Since relocating to Winter Harbor some 35 years ago, Vicki  and her husband, Alan Goldstein, she has turned her attention to the fleet of
Winter Harbor Knockabouts and about which she wrote a book, The Fortunate Fleet. Goldstein has served on the boards of Outward Bound (Maine), the Beatrix Farrand Society and the Farnsworth Museum.
"I am pleased to be joining the Board of an institution my husband, Alan, has been associated with for ten years, and at a time when it is seeing so much success in introducing all ages to the excitement of the scientific method and learning," said Goldstein. "Schoodic Institute represents a valuable addition to the culture of Winter Harbor and supports the economy of our peninsula. It is an honor to be able to contribute what I can to Schoodic Institute's mission."
Goldstein recently joined the Board of Trustees of Maine Public. In her winter home at Ocean Reef Club in Key Largo, Florida, she founded the Food and Film Society and the Campus at the Cultural Center at Ocean Reef which sponsors lectures by outstanding scholars, and the Vintage Weekend, an event that celebrates antique boats, automobiles and planes. She is an avid gardener and defender of the environment.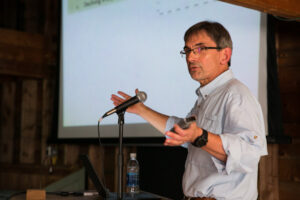 Ivan J. Fernandez is Professor in the School of Forest Resources, Climate Change Institute, and School of Food and Agriculture at the University of Maine. Fernandez is a soil scientist and biogeochemist with a research focus on understanding the impact of air pollution and climate change on ecosystems, particularly forest health. A lead author of the Maine's Climate Future series of statewide climate change assessment reports, Fernandez represents the University of Maine in the USDA Northeast Climate Hub, is a member of the 2021 Governor's Maine Forest Carbon Task Force, is a member of the Maine Climate Council and co-chairs the Maine Climate Council's Scientific and Technical Subcommittee, and is a member of Council's Natural and Working Lands Working Group. He has taught courses in soil science, forest soils, carbon and climate, and climate adaptation among others and served as a department chair for a decade.
"I am honored to have the opportunity to be further involved with the important work of Schoodic Institute in furthering the role of science, education, and conservation in the stewardship of Acadia National Park. Having done research, recreated, and taught in Acadia for decades I have never been more appreciative of the important role that Schoodic Institute also plays in preparing the next generation of leaders to meet the challenges of our rapidly changing environment," said Fernandez. "The accelerating rates of change that Acadia National Park is experiencing demands the very best science to support decision-making by resource managers, and a science-based approach also offers the best promise of accelerating solutions."
Fernandez is a  Distinguished Maine Professor (2007), CASE/Carnegie Professor of the Year (2008), Soil Science Society of America Fellow (2010), recipient of the UMaine President's Public Service Achievement Award (2018), and member of various U.S. Environmental Protection Agency Science Advisory Board committees (2000-2021).