Posted in
Story and photos by Hallie Daly
Any morning at Schoodic Point is sure to be serene, with the waves crashing along the rocks, wind blowing through the trees, and the constant scattering of gulls. But what I'm watching for—and what most visitors fail to notice—is the thousands of seabirds that fly past the point every day on their long journey south to warmer waters for the winter.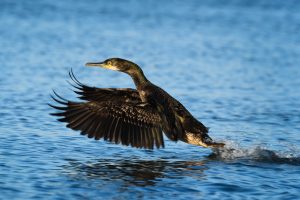 Since starting Sea Watch at Schoodic Point at the beginning of August, lead observers Seth Benz and I, along with help from volunteers, have counted more than 51,000 birds during daily five-hour morning stints. The most common migrant that flies past the point is the double-crested cormorant, a sleek seabird that swims underwater in pursuit of ocean fish. So far we have counted 24,231 of them–nearly 10,000 in one morning alone! The next common bird is another iconic Maine coast bird, the common eider, North America's largest duck, which currently tallies in at 10,200 individuals.
In addition to the sheer volume of birds that have been counted, we have seen a wide diversity of species, including some birds not commonly found in the state of Maine. We have noted two seperate appearances of black skimmer, a very specialized tern that skims the bottom of its bill along the water to catch food; and a single appearance of a royal tern, neither of which are usually found north of Massachusetts. In addition, we have recorded an abundance of migrating land birds including northern flicker, American woodcock, black-and-white warbler, and ruby-throated hummingbirds, all of which have been spotted flying over the ocean and heading straight for the point.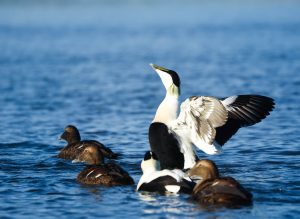 The seabird migration is now in full swing and observers will stay busy counting birds up until the season ends. We welcome nature enthusiasts of all types to join and no bird knowledge is required, however binoculars and a curiosity for bird ecology are highly recommended. Come join Schoodic Point Sea Watch any morning from 7-10 a.m., now until November 16th!
You can also follow daily observations via eBird.
Mid Season Total: 51,697
Mid-season Species Totals of Most Common Species (as of October 22, 2019)
| | | | |
| --- | --- | --- | --- |
| Common Eider | 10,200 | Common Loon | 1,121 |
| Surf Scoter | 4,014 | Red-throated Loon | 52 |
| Black Scoter | 762 | Red-necked Grebe | 25 |
| White-winged Scoter | 907 | Double-crested Cormorant | 24,231 |
| Scoter sp. | 2,069 | Great Cormorant | 314 |
| Canada Goose | 209 | Cormorant sp. | 1,221 |
| Mallard | 22 | Red-breasted Merganser | 170 |
| American Black Duck | 39 | Razorbill | 5 |
| Laughing Gull | 389 | Black Guillemot | 127 |
Please support early-career ecologists like Hallie by contributing to our Crowdrise campaign.