Posted in
by Seth Benz + Kyle Lima
If you've spent any time in Maine within the last decade, there's a very good chance that you encountered a wild turkey. This large, dinosaur-like bird seems to be everywhere, especially in the spring, but it's easy to forget that not too long ago they had all but vanished from the landscape.
Historically, turkeys provided the native Wabanaki people with feathers for clothing and adornment and meat and eggs for sustenance. But as European colonists cut down their forested habitat, turkeys lost food and shelter and became vulnerable to overhunting. John Josselyn's reports from 1672 indicated that the species was "very rare to meet in the woods." By the time the Champlain Society naturalists were cataloging bird species on Mount Desert Island in the early 1880s, the wild turkey was absent from the state. In the 1940s, Maine Department of Inland Fisheries and Wildlife began re-introducing turkey in different regions. According to Birds of Maine, relocation efforts have been limited to Aroostook County since 2013. Today, the species can be found in all of the state's 16 counties.
According to eBird data, the first twentieth-century reported sighting in Hancock County was just west of Ellsworth in January 1984, when a flock of 20 were reported. The species is now reported on eBird checklists every month.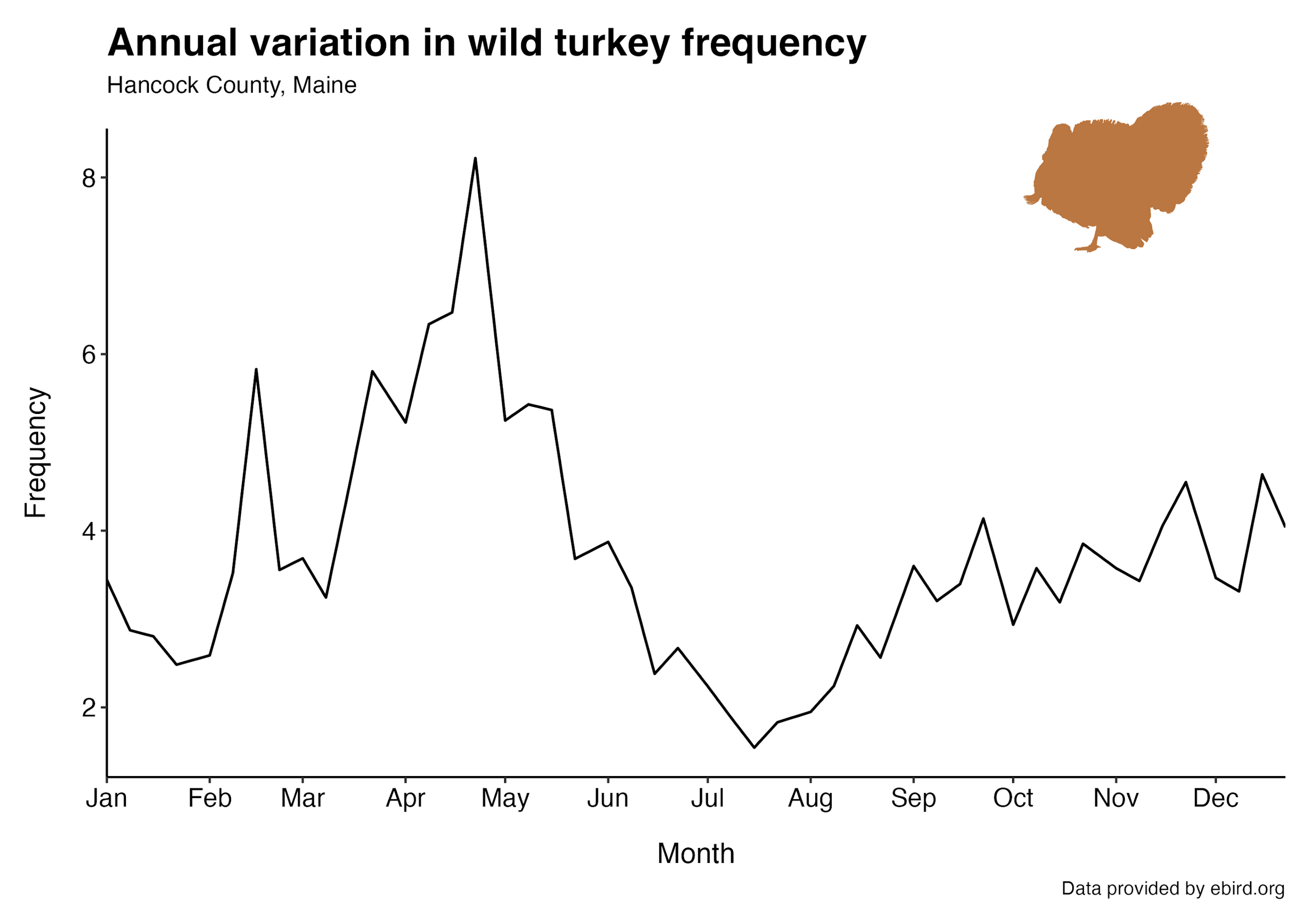 Volunteers with the Schoodic Point Christmas Bird Count (CBC) first recorded the species in 2003. Interestingly, wild turkeys were not spotted again until 2010. They have been observed every CBC since then. Our recent study of the Acadia region CBC data shows that the species is increasing.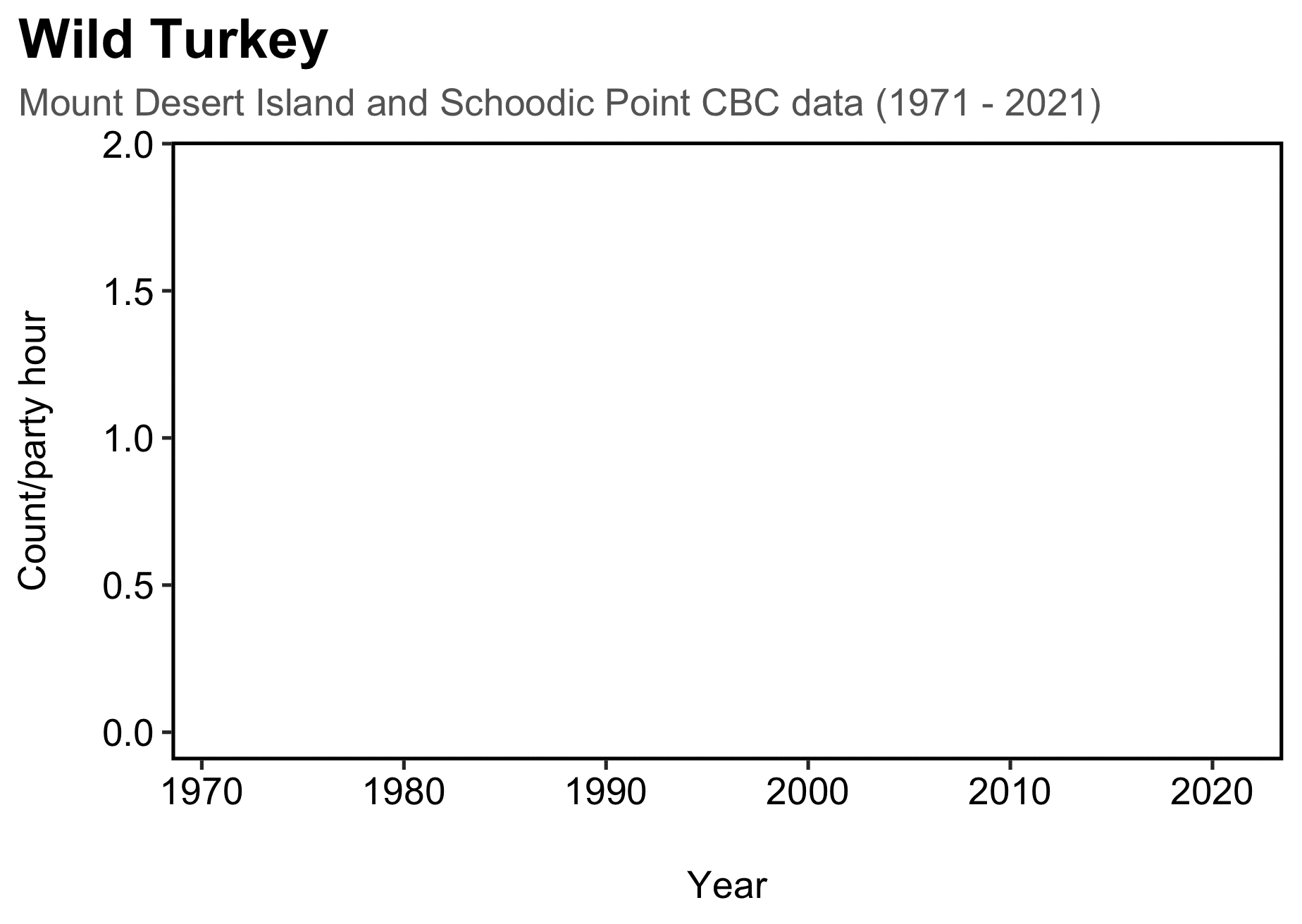 What is the future for the wild turkey in Maine? Audubon's recent science report, Survival By Degrees, shows that two-thirds (64%) (389 out of 604) of North American bird species are at risk of extinction from climate change. Audubon scientists studied 604 North American bird species using 140 million bird records—including observational data from bird lovers across the country. They combined the bird data with the same climate models used by more than 800 experts in 80 countries to map where each bird might live in the future under a changing climate, based on specific variables such as habitat and seasonality.
Here you can investigate the predictive model for wild turkey under different climate conditions: https://www.audubon.org/field-guide/bird/wild-turkey. The wild turkey population is currently stable and moderate warming temperatures are not an immediate threat to the species. However, if the average global temperature were to warm by 3˚ C (~37˚ F), the species' habitat could be vulnerable to recurring wildfires and spring heat waves that would be a considerable stressor on eggs or young in the nest.
The rise of the wild turkey is a success story of conservation, but as the climate continues to change it will be critical to monitor this species along with the large diversity of birds that Maine is home to. By recording your observations of wild turkey and other birds through eBird and iNaturalist, you can help inform the status of wild turkey populations as well as many other species!