Posted in
THIS PLACE is a mosaic of diverse landscapes and varied topography and climate, a unique mix of ocean islands and peninsulas, glacially sculpted granite mountains, forest, marsh and meadow, lake and stream—all within the boundaries of a national park.
THIS PLACE is homeland of the Wabanaki people. The lands within and outside the park and the marine waters beyond support the livelihoods of local communities, and are visited by more than three million people each year. Scientists, teachers, and students have long recognized Acadia as a distinct and ideal environment in which to understand and connect to nature.
THIS PLACE is experiencing many changes: warming temperatures, increasing precipitation, shifting seasons and weather patterns, rising sea levels, and changing plant and animal populations.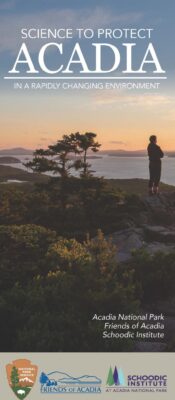 SCIENCE continues to guide our relationships with Acadia's landscapes and shorelines. Studying the past, while monitoring current change, helps us prepare for the future.
TOGETHER, Friends of Acadia and Schoodic Institute work with the National Park Service to preserve Acadia's natural and cultural resources unimpaired for future generations, making sure people have meaningful experiences, and restoring and protecting the beauty and resilience of this place.
TOGETHER, we have produced a new publication that describes how Acadia is changing, and how scientific research, past and present, can help us in our collaborative work to protect Acadia.