Downeast Maine Birding Hotspots
September 30, 2022

-

October 4, 2022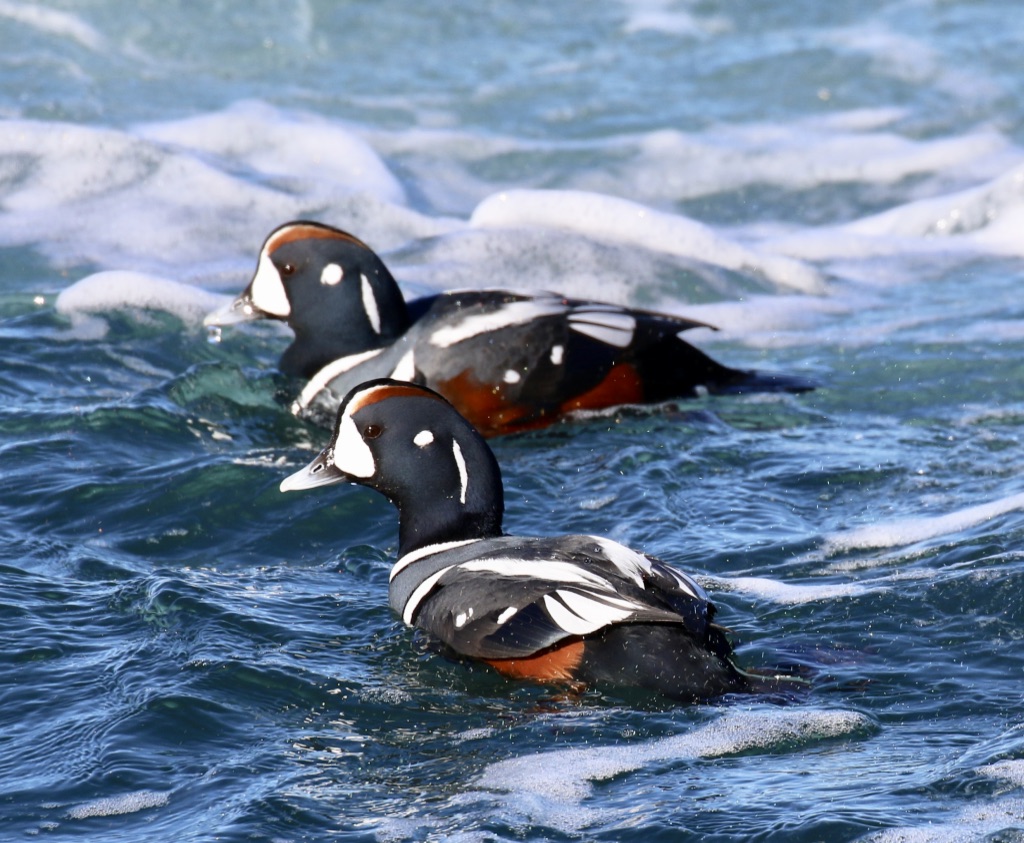 Registration for this event is now closed.  Please contact Michelle at 207-288-1356 for more information.
This tour begins in Bangor, Maine at 8:00 AM *.  We'll spend two nights at Schoodic Institute in Acadia National Park and two nights at Eastland Motel in Lubec, Maine's easternmost town.  From each lodge, day trips will investigate near intertidal areas flooded with migrating shorebirds and wood edges peppered with restless flocks of southbound warblers.  We'll also take a boat tour into Head Harbor Passage, a deep-water channel between Canada and the United States, where Bonaparte's gulls forage by the thousands, joined by Black-legged Kittiwakes.  Rarities such as Black-headed, Sabine's and Little gull have been spotted here as well.  The Downeast region is ideal for exploring the quieter reaches of Acadia National Park, spruce-bordered rocky headlands, nearby blueberry barrens, and diverse hotspots on the preserved lands of coastal Washington County.
Due to COVID-19 precautions, we are offering van transportation from Bangor (Odlin Road Park & Ride parking area is very near the Bangor Airport and a selection of excellent lodging facilities. We will pick you up at your inn or lodge) OR participants may provide their own ground transportation to and from Schoodic Institute.  From Schoodic, if van use is prohibited, all field trips will be caravan style via carpooling.  All participants must be prepared to wear a facial mask that covers nose and mouth during all tour activities, especially when social distancing is not possible.  Changes to the status of COVID-19 precautions are monitored closely by Schoodic Institute and are subject to the guidance of the Maine CDC (and U.S. CDC).  We will adjust accordingly.
Participants should bring binoculars.  A camera (optional) can be fun as all tours are fairly scenic.  Spotting scopes are useful but optional and your guide will provide one for group use, as well as guidebooks.  None of the tours require strenuous hiking.  Birding will be slow moving and on level ground.  There may be some spots that are muddy, uneven, and slippery, but large boots are unnecessary.  The boat tour can be cold and damp.  Bring appropriate clothing.
* participants may drive to Schoodic Institute for an 11:00 AM start.
Registration is required.  The package cost is $1585.00 per participant.
Example Itinerary
Day 1: Begins in Bangor, Maine at 8:00 AM (transportation pick up available) OR on the Schoodic Institute campus at 11:00 AM, as the group convenes for this 5-day, 4-night tour.  Check-in and orientation is at Rockefeller Hall.  After check-in, introductions, and lunch, the afternoon will be spent exploring the Schoodic section of Acadia National Park.  Dinner is at 6:00 PM in Schooner Commons.  Following dinner, we will have an evening presentation to get acquainted with the history and ecology of the region.
Day 2: Starts with an optional bird walk before breakfast.  Breakfast is from 7:00 to 8:00 AM.  This day will feature birding hotspots in Acadia National Park and vicinity.  We'll return by 5:00 PM for an hour of leisure prior to a Lobster Dinner in the dining hall.  After dinner discussion will focus on birds and events of the day, research and education work at the institute, and preview of days ahead.
Day 3: Following breakfast, we'll transition from the Schoodic Peninsula by birding our way farther Downeast, arriving in Lubec by late afternoon.  Along the way, we'll visit Roque Bluffs State Park and another birding hotspot or two.  Dinner will be at a local eatery in Lubec.  After dinner we'll do a checklist review and preparation for the next day's adventure.
Day 4: Focus today is a boat trip out of Eastport into Head Harbor Passage which lies between the U.S. and Canada – with a tide so strong that the world's second largest whirlpool, "The Old Sow," swirls in the middle. So much sea life congregates in this channel that minke whales are usually sighted from land.  The channel fills with Bonaparte's Gulls, Black-legged Kittiwakes, Common Eiders, Black Guillemots, and Razorbills, feeding off mackerel and herring offshore.
Day 5: Is leader's choice, giving us a good portion of the day to make up for any bad weather or missed opportunities along the route from Lubec back toward Schoodic.  The tour ends at 2:00 PM.
A species list from a previous tour is available upon request.
Housing: Lodging assignments are based on guests sleeping in a private bedroom in a shared apartment.  In light of COVID-19 we recommend that guests in each apartment work together to coordinate use of the bathroom.  We will place cleaning products in each bathroom and suggest that every person disinfect the space for the next user when they are done using it.  All lodging provides a fully equipped kitchen, combined living/dining area with DirecTV and WiFi.  Towels and linens are provided.  Please call Megan (207) 288-1337 or Michelle (207) 288-1356 if you have any questions regarding alternative lodging options or in the event you would like to bring a guest or extend your reservation.  Private apartments can be reserved with an upcharge and based upon availability.  We are happy to accommodate if space is available!
Should You Need to Cancel Your Event Registration
There is a $35 processing fee for any cancellation made 15 days or more prior to the conference date. No refunds will be given for cancellations within 14 days of the conference date.
Registration for this event is now closed.  Please contact Michelle at 207-288-1356 for more information.
Related Events