Posted in
by Catherine Schmitt
This fall and winter, we worked with students in Mount Desert Island High School's Honors Environmental Science class to learn about sea level rise in and around Acadia. Students reviewed the projections for future sea levels, and considered how rising seas might affect places they care about. Mount Desert Island Historical Society director Raney Bench selected historical images and records that could be used to understand past sea levels and coastal conditions, such as an account of Mount Desert Rock during Hurricane Daisy in 1962, a letter regarding the bridge between Trenton and Mount Desert Island needing repairs in 1851, and photos of boats sinking in Southwest Harbor during Hurricane Edna in 1954.
The project, supported by a grant from the Albert Lepage Center for History in the Public Interest at Villanova University, is part of our continued collaboration on Landscape of Change, which won an Award of Excellence from the American Association for State and Local History in 2022.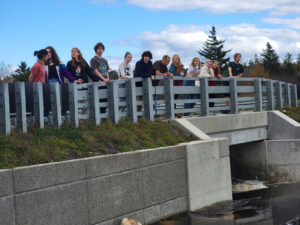 In October, the students visited sites around the western side of the island during a "king tide." They felt the power of the surf at Seawall, observed wildlife affected by the rising tide at Bass Harbor Marsh, and  witnessed a "ghost forest" from the trails at The Oceanarium. Surrounded by salt marsh and an old salt pond, The Oceanarium is especially vulnerable to rising sea levels. 
With the guidance of artist Jennifer Steen Booher, the students have imagined creative ways to share what they have learned with their community. Their work will be incorporated into events and exhibits happening this summer.
Others have joined the students in documenting high tides. The December king tide that occurred at the same time as a severe winter storm provided a dramatic window to the future coast. Another king tide arrives this Sunday through Tuesday,  January 22 (10:37 am), January 23 (11:30 am), and January 24 (12:24 pm) when the high tide at Bar Harbor will be over 13 feet, two feet above "normal." You can join us by sharing observations to Anecdata – or email me.
JANUARY TIDES AT BAR HARBOR