Acadia National Park and Mount Desert Island have a rich legacy of science, from ancestral knowledge of the Wabanaki to work by 19th century naturalists and 20th century scientists. This history provides a valuable baseline from which to measure the effects of climate change. Landscape of Change is a collaborative project with Mount Desert Island Historical Society, College of the Atlantic, the Mount Desert Island Biological Laboratory, A Climate to Thrive, and Acadia National Park to publish and compile historic records on birds, pollinators, water temperature, sea levels, and weather, with the goal of identifying trends in the Acadia region. But more help is needed to collect new data to compare to the past. Join us!
Help us document Acadia's #LandscapeOfChange
~ share the birds, bees, butterflies, and moths you see and hear to eBird and iNaturalist.
~ contribute photos of high tides and storms to Anecdata.

Latest activities:
With support from private donations, Schoodic Institute is leading the citizen science and data management aspects of Landscape of Change. This project is an example of how we work with the National Park Service to share information related to science in the park and stories about science past and present, as well as how we provide opportunities for people of all ages to participate in science programs in Acadia National Park and also regionally, nationally, and internationally.
More about the project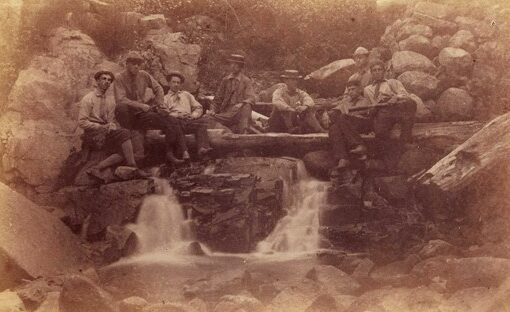 Acadia National Park has a rich legacy of scientific activity. The Mount Desert Island Historical Society cares for an important collection of historic natural history notes recorded by a group of students from Harvard known as the Champlain Society. These students spent a decade in the 1880s exploring island ecosystems and documenting their findings. The first three summer camp logs of the C.S. were published as the 2021 Chebacco, edited by Schoodic Institute science communication specialist Catherine Schmitt.
With a goal to use Champlain Society notes and other historical data as a baseline from which to measure changes seen today, in 2021 we created a story map representing 140 years of data related to these topics, including observations of birds, bees, butterflies, and moths made by members of the Champlain Society in the 1880s and William Procter and other scientists in the early 1900s. Insects are a big category, so this study is focused on pollinators (bees, butterflies, moths) with a plan to expand into other species and datasets as time allows.
Explore the story map and data:
For more information, contact Catherine Schmitt, cschmitt@schoodicinstitute.org