Posted in
story by Olivia Milloway
Over the last nine months as the Cathy and Jim Gero Acadia Early Career Fellow in Science Communication, I've worked closely with Schoodic Institute staff and a cohort of early-career professionals to tell the stories of the science happening in and around the land that is now called Acadia National Park. This fellowship has taken me up and down Maine's coastline, reporting from the Western Hemisphere's largest whirlpool to the highest point on the Eastern Seaboard.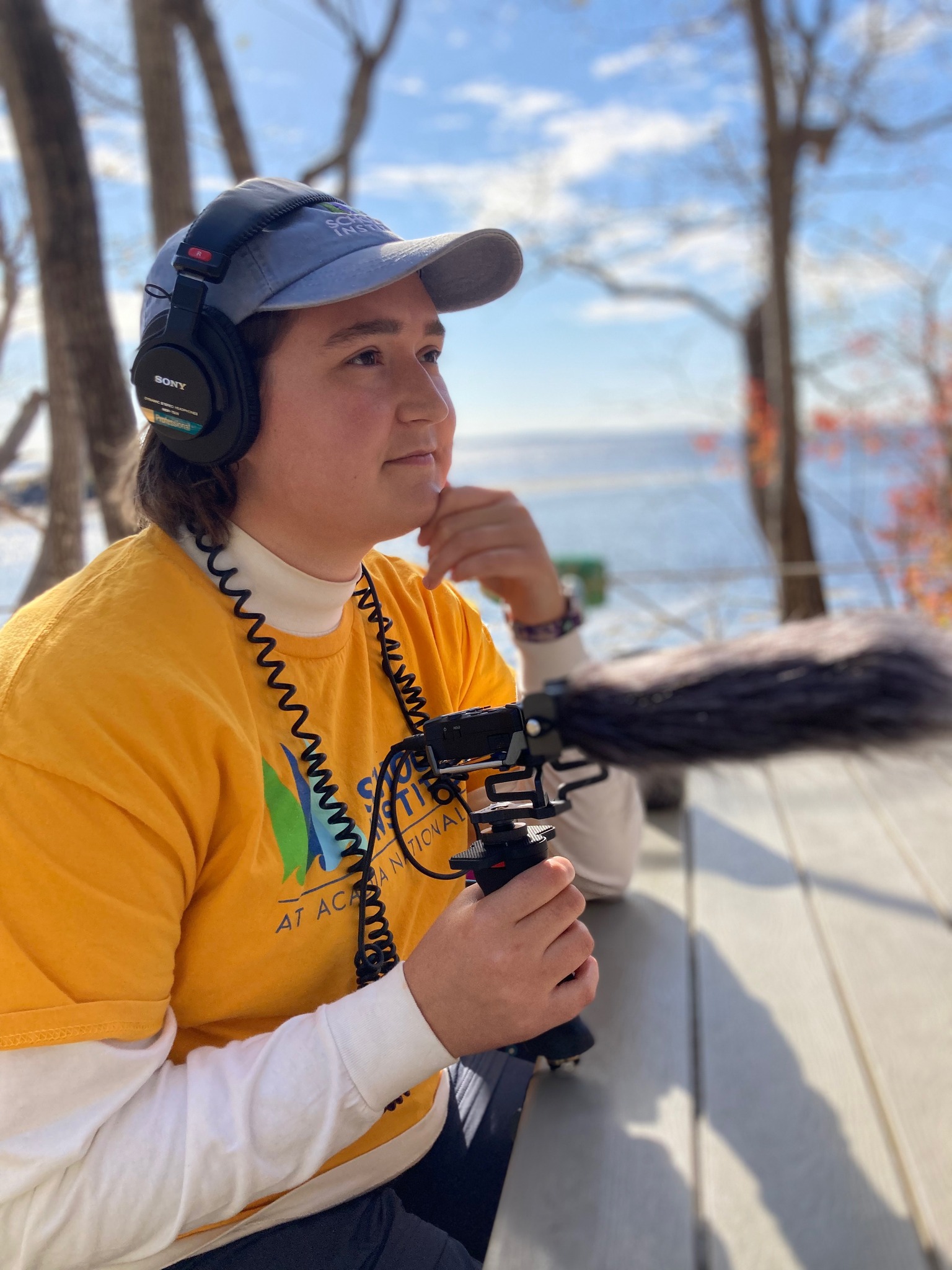 When I first started getting to know the sounds and stories of Acadia, I became particularly interested in citizen science, the participation of non-scientists in research. Citizen science volunteers help improve the park's understanding of natural and cultural resources, including tracking mercury contamination and risk, documenting changes in biodiversity, and assessing harvested marine resources like rockweed. While I appreciate that citizen science can generate new and important information about our changing environment, I was most interested in citizen science as a tool for education and outreach. I wanted to hear from citizen scientists about their experiences, and what, if anything, it changed in how they relate to the landscape.
In order to share the stories of citizen scientists in their own words, I created season one of Sea to Trees, a podcast that tells the stories of the science happening in and around Acadia from the rocky shoreline to the evergreen forests to the granite mountaintops. In this first season of the show, we explored the ever-growing field of citizen science and how it can help answer questions about our changing world. This first season of Sea to Trees, which includes three episodes, will be released weekly through the month of March. 
While listening to the show, it's important to consider whose voices are represented, and why. Citizen scientists tend to be overwhelmingly white, economically advantaged, and more likely to hold advanced degrees. The same holds true here in Acadia, and with the volunteers I interviewed for this podcast. There are deeply ingrained barriers to accessing outdoor spaces where citizen science happens, and not everyone feels welcome in national parks in the first place.
Part of making Acadia and other parks more accessible to diverse visitors means welcoming and respecting their ways of knowing. Before any modern-day notions of "science," or citizen science for that matter, people have learned about the world around them through traditional ecological knowledge gathering or personal recordkeeping. From Wabanaki relations with the land to clammers' knowledge of the mudflats, ways of knowing that stretch beyond the scope of conventional science must be valued and incorporated into parks' understanding of nature and culture. 
One way of centering different ways of knowing in the practice of science is co-creating research questions and project designs with community members affected by or in relationship with the environment being studied. In this model of working with communities to address questions that matter to them, known as community science, not only will the science itself become more relevant and meaningfully address real-world problems, but more people will experience the joy of learning that is part of science. 
For example, through Thriving Earth Exchange, Schoodic Institute scientists, Park staff, Otter Creek community leaders, and local clammers and marine wormers are investigating the harm caused by Park Loop Road construction to the marine resources in the Otter Creek Inner Harbor. Through decades of industry experience and intergenerational knowledge of Otter Creek's mudflats, these clammers and marine wormers are bringing unique and necessary expertise to the study. 
But, science is only one lens of viewing the way the world works. Other efforts in Acadia, led by Wabanaki scientists, incorporate traditional ecological knowledge to both ask and answer questions important to Indigenous communities and the National Park Service. 
Who is allowed to pursue and claim knowledge in the natural sciences remains inequitable. In Acadia National Park and in protected lands across the country, we must continue to prioritize elevating diverse ways of knowing so that we might address the most pressing questions we're facing in environmental justice and the climate crisis. Though Season One of Sea to Trees is just a piece of this national, discipline-wide conversation, I hope that I can share a little bit of Acadia National Park with those who might be listening from afar. Being able to spend the last nine months living and working at Schoodic Institute has been both a pleasure and a privilege and I'm deeply grateful for the support of the Gero Fellowship in allowing me to do so. You can find the trailer now on nps.gov or Apple Podcasts, and episode one will be released March 9th.