Long-term Monitoring of Bird Populations
We use eBird from the Cornell Lab of Ornithology and National Audubon Society to track bird observations. Checklists are updated almost daily for Frazer Point and Schoodic Point and other hotspots in Acadia National Park. These databases allow us to evaluate trends over time.
Sea Watch
Help us count the thousands of birds that travel past Schoodic Point in autumn. Drop-in from sunrise until 9:30 a.m. every day (weather permitting) from September through November. Bring binoculars. Dress for the weather. No registration required. Learn more.
Hawk Watch
A collaborative effort between the park's Interpretive Division and Schoodic Institute's Bird Ecology Program, Hawk Watch takes place on Cadillac Mountain in Acadia National Park, the highest point along the Atlantic coast from the Canadian border to Brazil. Its latitude makes Cadillac Mountain a natural sentinel and exceptional early detection point for observing the northeastern-most headwaters of what becomes a spectacular river of southbound raptors. August-October 2022 (Visitors to Cadillac Mountain summit will need an advance vehicle registration).
– View the latest count data at hawkwatch.org
– Read the 2021 update
– Read the September 2019 update from Acadia National Park.
Landscape of Change
In partnership with Mount Desert Island Historical Society and several other organizations, we are comparing historical records of Mount Desert Island bird populations with contemporary data to understand changes over time. Learn more.
Wild Acadia
In recent years, the National Park Service managers have shifted their approach to restoring and protecting park resources, employing the "resist, accept, direct framework" that anticipates ongoing and future change. Through Wild Acadia, we are working with the National Park Service and Friends of Acadia to implement this new approach in three areas of the park, including Great Meadow and Bass Harbor Marsh, where we are helping to monitor the effects of restoration projects on birds, insects, and other wildlife. Learn more.
Bird Sounds
Laura Sebastianelli, a professional wildlife tracker and trained sound recordist, works with the Bird Ecology Program each June to record the calls and songs of breeding birds such as the Common Nighthawk and Northern Saw-whet Owl. Learn more at the Schoodic Notes website.
Seasonal Changes
Environmental changes may affect birds indirectly by altering available food resources. Volunteer observers with the Downeast Phenology Trail help us document the presence of fruit and insects during the seasons.
We are also conducting an analysis of historical bird data as part of Landscape of Change.
Winged Migration Monitoring
We participate in the Motus Wildlife Tracking System, an international effort to monitor the movement and behavior of individual birds, bats, butterflies, and dragonflies.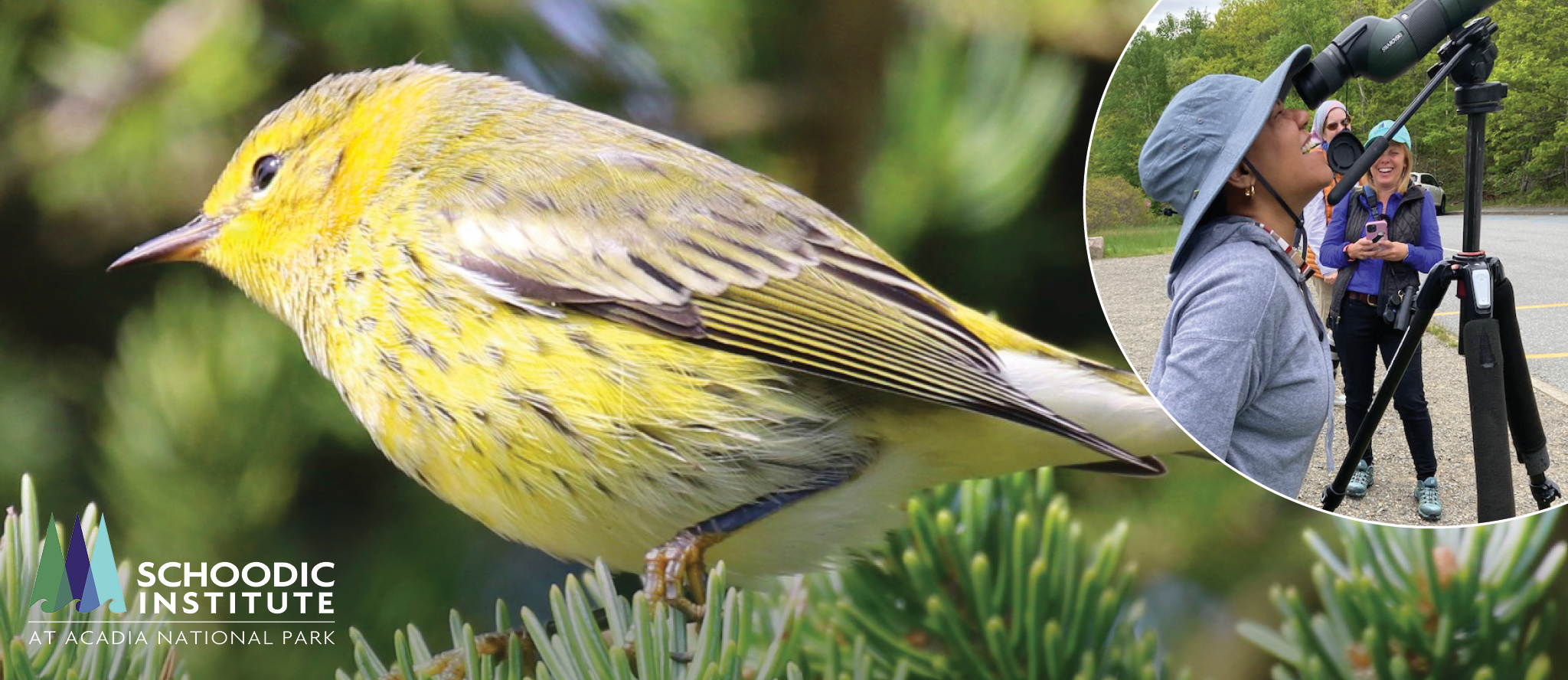 Schoodic Institute
9 Atterbury Circle, Winter Harbor, ME
Maine's Downeast region is ideal for exploring the quieter reaches of Acadia National Park, spruce-bordered rocky headlands, nearby blueberry barrens, […]