Seabirds at Schoodic Point
October 14, 2022

-

October 17, 2022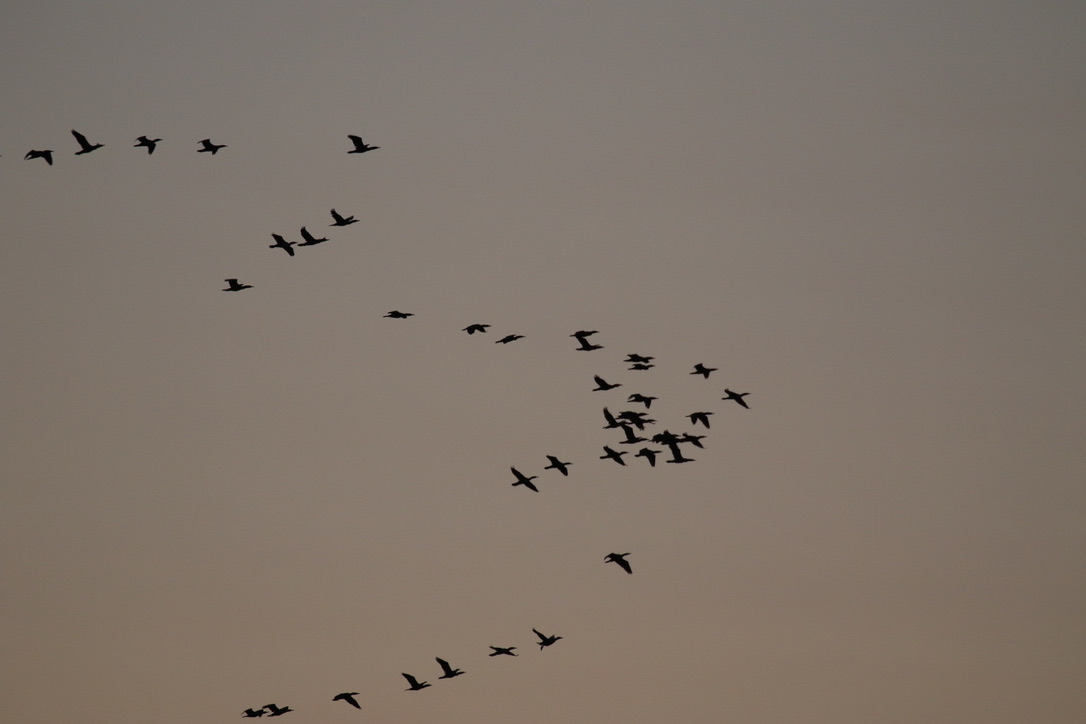 Registration for this event is now closed.  Please contact Michelle at 207-288-1356 for more information.
In October, the waters off Schoodic Point are filled with migrating waterbirds: loons, sea ducks, and cormorants.  A variety of other species may be seen during this workshop, including falcons, jaegers, gulls, shorebirds, and songbirds.  2022 will be the seventh season of daily monitoring of this phenomenal autumn flight.  Participants will gain skills and an appreciation for identifying birds in flight and will contribute to this ongoing scientific effort by helping to spot birds and document the flight.  We'll discuss how to best use the Merlin and eBird apps and discuss how networks of bird observatories and bird tracking studies are contributing to migratory bird conservation.
Due to COVID-19 precautions, participants must provide their own ground transportation to and from Schoodic Institute and possibly during all field trips.  If van use is prohibited, all field trips will be caravan style (carpooling is possible).  All participants must be prepared to wear a facial mask that covers nose and mouth during all tour activities, especially when social distancing is not possible.  Changes to the status of COVID-19 precautions are monitored closely by Schoodic Institute and are subject to the guidance of the Maine CDC (and U.S. CDC).  We will adjust accordingly.
Participants should bring binoculars.  A camera (optional) can be fun as all tours are fairly scenic.  Spotting scopes are useful but optional and your guide will provide one for group use, as well as guidebooks.  None of the tours require strenuous hiking.  Birding will be slow moving and on level ground.  There may be some spots that are muddy, uneven, and slippery, but large boots are unnecessary.  Mid-October can be chilly and wet.  Bring appropriate clothing.
Registration is required.  There are two packages available.  The Commuter Package for $820.00 per participant is the base package and does not include lodging.  The Residential Package for $980.00 per participant adds lodging for the first three nights.
Example Itinerary
Day 1: Begins on the Schoodic Institute campus at 3:00 PM with check-in and orientation at Rockefeller Hall. We'll then take a leisurely stroll to Schoodic Point before dinner at 6:00 PM.  An evening presentation on seabird identification and migration follows.
Day 2 and 3: Start at sunrise at Schoodic Point after which we'll go back inside for breakfast.  Following breakfast everyone returns to Schoodic Point to gain firsthand experience with monitoring the migration. Lunch will be at Schooner Commons.  During the afternoon hours we'll assess the day's activity and determine whether classroom time, more field time, or a field trip to a nearby birding location would be most rewarding. We'll break at 5:00 PM for some leisure time before the 6:00 PM dinner.  An evening discussion on the day's experience follows.
Day 4: Starts again with sunrise at Schoodic Point before breakfast.  Breakfast is from 7:00 to 8:00 AM.  We'll return to Schoodic Point after breakfast in anticipation of migrating birds, including gannets, moving along the coastline.  Wrap-up precedes checkout at 10:00 AM.
Housing: Lodging assignments are based on guests sleeping in a private bedroom in a shared apartment.  In light of COVID-19 we recommend that guests in each apartment work together to coordinate use of the bathroom.  We will place cleaning products in each bathroom and suggest that every person disinfect the space for the next user when they are done using it.  All lodging provides a fully equipped kitchen, combined living/dining area with DirecTV and WiFi.  Towels and linens are provided.  Please call Megan (207) 288-1337 or Michelle (207) 288-1356 if you have any questions regarding alternative lodging options or in the event you would like to bring a guest or extend your reservation.  Private apartments can be reserved with an upcharge and based upon availability.  We are happy to accommodate if space is available!
Should You Need to Cancel Your Event Registration
There is a $35 processing fee for any cancellation made 15 days or more prior to the conference date. No refunds will be given for cancellations within 14 days of the conference date.
Registration for this event is now closed.  Please contact Michelle at 207-288-1356 for more information.
Related Events