Spring Birds in Acadia, with Puffin Cruise – FULL
May 24, 2022

-

May 27, 2022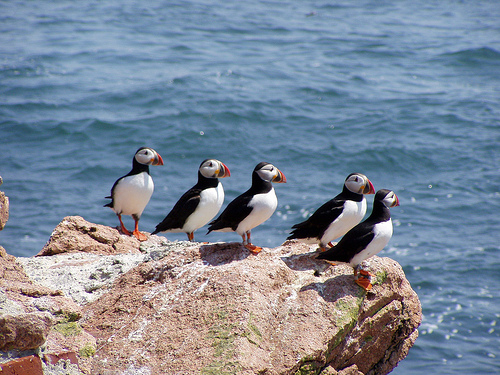 This event has reached capacity.  Please consider one of our other bird tours.  You may also call Michelle at 288-1356 to be placed on a waiting list in case this event reopens.
Schoodic Institute's Seth Benz and Holly Merker, author of "Ornitherapy" will lead this four-day bird tour designed to enhance your enjoyment and knowledge of all birds, especially those that frequent or pass through Acadia National Park and its immediate surroundings.
Be among the first to see and hear colorful wood warblers returning to Maine's Acadia National Park, and enjoy a 3-hour boat trip to Petit Manan Island for Atlantic Puffins.  We'll visit area hotspots at a leisurely pace while learning about bird song and sight identification, bird habitats and behavior, and we'll pay extra attention to enhancing your field birding skills and enjoyment of nature.  The entire tour will be based out of Schoodic Institute, a research and learning center, ideally situated just a stone's throw from Schoodic Point, a migration checkpoint that tallies tens of thousands of passing birds annually.  Lodging is in cozy cabins where you will be awakened by songs of Hermit Thrush, Winter Wren, and Magnolia Warbler.  Blue-headed vireos and Northern Parula warblers serenade you as you walk to Schooner Commons, the Institute's dining hall.  Maine has a way of spoiling birders – and this spring tour is designed to do just that!
Registration is required.  The program cost is $985.00 per participant.  Space is limited so register quickly.
Example itinerary (Day 2 and 3 may be flipped, depending upon weather):
Day 1: Check-in is at 10:00 AM.  "Spring Birds" begins on the Schoodic Institute campus at 11:00 AM with introductions and a tour of the Institute campus.  Lunch will follow at Schooner Commons.  The afternoon will feature the start of field birding with an excursion to a local hotspot or two.  We'll return to campus for an hour of relaxation before dinner.  Dinner is from 6:00 to 7:00 PM.  An evening presentation on puffin restoration efforts will follow dinner in preparation for tomorrow's boat trip to an active seabird colony.
Day 2: Breakfast is from 7:00 to 8:00 AM in Schooner Commons.  An optional morning bird walk on campus is available before breakfast.  We'll then travel 10 minutes or so to the boat launch in Winter Harbor for a 3-hour cruise to Petit Manan Island.  This is our best chance to see Atlantic Puffin, Razorbill, Common Murre, and several tern species as we circumnavigate the island, one of just 5 islands in Maine where you can see Atlantic Puffin, thanks to restoration efforts.  After lunch, which will be a field lunch at a bird-rich picnic spot, we'll inspect some nearby Spruce Grouse habitat to see if we can find a territorial male or two.  Of course, there will be other birds to see along the way.   An evening discussion on the day's experience, identification tips and review, and how to get the most out of eBird use follows dinner.
Day 3: Optional campus bird walk before breakfast from 7:00 to 8:00 AM.  We'll then spend the day investigating hotspots on the Schoodic Peninsula section of Acadia National Park as well as the nearby villages of Winter Harbor, Prospect Harbor and Corea.  Lunch will be in the field (carefully packed in a cooler along with water). We'll return to campus by 5:00 PM for leisure time before the 6:00 PM dinner.  Dinner this last night together is your choice of lobster or a delicious alternative.  Afterward, we'll sum up the day and complete a checklist review.
Day 4: Optional before breakfast bird walk.  We'll then wrap things up following breakfast and have the option of a culminating stroll to Schoodic Point.  Checkout is at 10:00 AM.
Housing: Lodging assignments are based on guests sleeping in a private bedroom in a shared apartment.  In light of COVID-19 we recommend that guests in each apartment work together to coordinate use of the bathroom.  We will place cleaning products in each bathroom and suggest that every person disinfect the space for the next user when they are done using it.  All lodging provides a fully equipped kitchen, combined living/dining area with DirecTV and WiFi.  Towels and linens are provided.  Please call Megan (207) 288-1337 or Michelle (207) 288-1356 if you have any questions regarding alternative lodging options or in the event you would like to bring a guest or extend your reservation.  Private apartments can be reserved with an upcharge and based upon availability.  We are happy to accommodate if space is available!
Should You Need to Cancel Your Event Registration
There is a $35 processing fee for any cancellation made 15 days or more prior to the conference date. No refunds will be given for cancellations within 14 days of the conference date.
Register Below:
Related Events