Posted in
In the 1880s, the student naturalists of the Champlain Society surveyed the birds of Mount Desert Island during summer camping expeditions. Their challenge, to document as many different species as possible during the few weeks they spent on the island, is not unlike the Global Big Day.
On Saturday, May 8, World Migratory Bird Day, teams of birders all over the world will be out doing their thing: watching birds. Our own Director of Bird Ecology Seth Benz is part of the Monarchists, a team with New Jersey Audubon supporting the Monarch Monitoring Project. Other teams in the "World Series of Birding" are competitive, but the Monarchists participate purely for the joy, and to raise funds for monitoring monarch butterflies – some of the very same monarchs that fly past Schoodic Point each September.
New bird sightings (and hearings) submitted to eBird, when compared against the Champlain Society's data from the nineteenth century, can help us detect and describe how climate change is affecting Acadia National Park. This is the essence of the new Landscape of Change project.
And YOU can help!
The Champlain Society records are mostly from the summer months, leaving many questions. Which birds no longer live on Mount Desert Island? Which birds are still here, and where? Which birds are here that were not present in the 1880s? And when do migrating birds first arrive?
Celebrate World Migratory Bird Day by keeping your eyes and ears open, and sharing what you find on eBird (or use this form). Records of birds beyond Mount Desert Island are equally valuable, because they help show broader population status and distribution.
Of the migratory bird species observed by the Champlain Society, 28 have already been seen on Mount Desert Island this year. Others we are still waiting for – see if you can find them: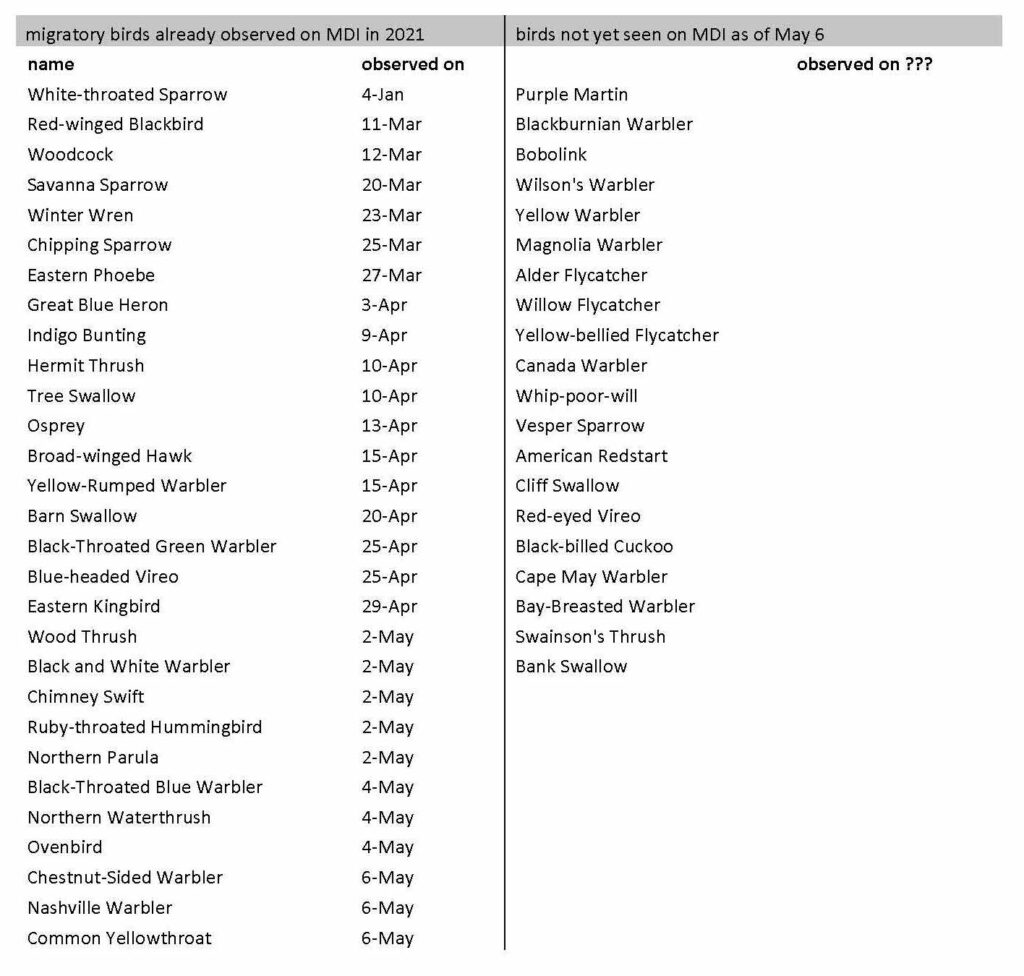 Learn more about Acadia's bird ecology history and Landscape of Change.
Sign up here to join the Landscape of Change project